US actor Steven Seagal granted Russian citizenship, receives his passport from Putin himself
Sunday, November 27th 2016 - 11:06 UTC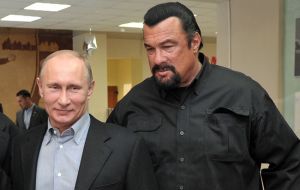 Russian President Vladimir Putin has given a Russian passport to US action film star Steven Seagal in a moved aimed at easing relations with the United States.
The 64-year old actor has been a regular visitor to Russia in recent years and has accompanied Putin to several martial arts events. Seagal is also known for having defended the Russian leader's policies and criticized the U.S. government.
After awarding Seagal citizenship through a presidential decree earlier this month, Putin hosted the actor at the Kremlin on Friday and handed him the passport.
Putin told Seagal he hopes the ceremony, which was shown on Russian state television, is "also a sign of a gradual normalization of the relations between the countries."