Cristina Fernandez shows up in court but avoids the media and followers
Tuesday, November 29th 2016 - 19:49 UTC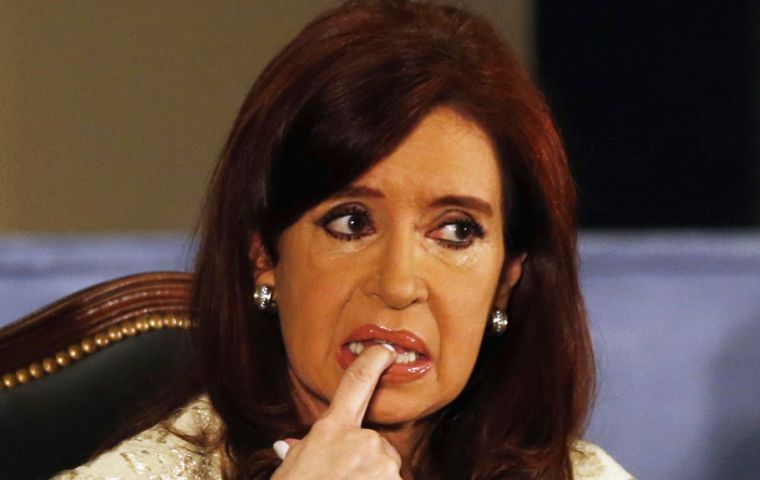 Former Argentine president early Tuesday morning turned up at the main court house in Buenos Aires, (Tribunales Building) where she had her finger prints taken and filled a social-environment report as indicated by law in Argentina. Judge Claudio Bonadio who has the case for which the ex president has been indicted and refers to the dollar futures sale by the Central bank, did not attend.
Cristina Fernandez who had been first summoned for last Friday, arrived at the court house minutes before 08:00 through a side door and avoided the media. The court house had been cleared and sealed off with a double ring of police and similarly the fourth floor, while the ex president complied with the finger prints and report procedures. She was escorted by her solicitor Carlos Beraldi.
Last week following her non attendance to court in Buenos Aires, Judge Bonadio gave Cristina Fernandez another date, Tuesday, but warned if she did not turn up, he would order police to bring her in. The ex president argued she lived in Rio Gallegos and could have complied with the requirements at the local federal court office.
By 08:30 Cristina Fernandez had finished and was out of the court, but on this occasion did not meet the media or her followers as in previous occasions when her presence turned into a political rally blasting the Judge, the president Macri administration and claiming she was the victim of political persecution.
Actually Cristina Fernandez the night before twitted her followers not to turn up for her presentation, she appealed to "common sense" since the government with all the display of force in front of the Courts building "is preparing another chapter of its standing distraction as the only performance methodology it can provide"
Solicitor Beraldi told the media that the evidence on which the former president has been indicted is "very weak" and is above all a "spectacular media display". He added that Cristina Fernandez was under a situation of "deprivation of Justice and her rights", despite the fact she has abided with all the court's instructions.