MI certifies Trump's win, Stein sticks to recount plans in WI, PA but nothing will change
Tuesday, November 29th 2016 - 09:38 UTC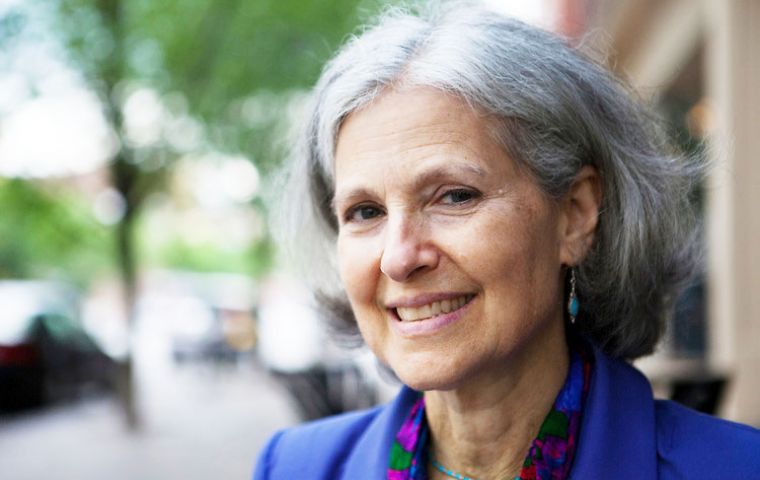 Electoral officials for the state of Michigan certified Monday that Donald Trump won by 10,704 votes out of nearly 4.8 million to claim all of its 16 electoral votes. Green Party nominnee Jill Stein said she would continue with her petitions for vote recounts in Pennsylvania and Wisconsin, although it would have taken a reversal in all three states for Democratic candidate Hillary Clinton to reach the presidency.
Questions raise as to how Stein got so quickly all her new funding, which largely surpasses her total campaign expenditures. There are leads pointing at billionaire George Soros.
Although Donald Trump's victory was ratified Monday by Michigan's Board of State Canvassers and although it would be necessary to overturn results in all three states under scrutiny (Michigan plus Wisconsin and Pennsylvania) to stop the Republican winner from taking office next year, Green Party candidate Jill Stein said she would be filing on Wednesday for a manual vote recount.
Meanwhile, the Wisconsin Election Commission agreed to a ballot recount of nearly 3 million votes in the state's presidential election but rejected a Green Party request for a hand recount. "It is a matter of looking at the ballot and tabulators agreeing on either a hand count to agree what the vote is or examining the ballot and putting it back into the voting equipment," Mike Hass, Wisconsin Elections Commission said on Monday.
Hass said before that happens a series of steps have to happen first including reconciling election materials like poll lists and absentee ballot materials. "There are technical and procedural steps they must take to ensure the number of voters that are marked on the poll list as voting matches the numbers of ballots that are being counted." The recount may begin as early as Thursday. The Wisconsin Election Commission gave counties until noon Monday to submit estimated costs for the efforts so that Green Party candidate Jill Stein could be billed. If she or Independent candidate Rocky De Le Fuente fail to pay the full costs by Tuesday, no recount will be ordered.
Stein is also busy with her Michigan and Pennsylvania plans. "What the voting technology experts tell us is that you cannot tell unless you're actually counting paper votes," she said. "And I don't think the FBI has done that."
"(The fundraised money) is all going into a dedicated recount fund that is not accessible to the campaign," she said. "We don't expect there to be money to leftover. If it turns out that there is, we will dispose of it using FEC guidelines."
The Washingon Post explained that "Stein's fundraising goal was $2.5 million — and donors blew right past it. At that point, as New York magazine first reported, the goal spiked to $4.5 million, and new language on the donation page admitted that costs could rise higher. 'The costs associated with recounts are a function of state law,' wrote the Stein campaign. 'Attorney's fees are likely to be another $2-3 million, then there are the costs of the statewide recount observers in all three states. The total cost is likely to be $6-7 million." The Post left no room for interpretation: "It's a lot of money, especially for the Green Party. Stein's 2016 campaign, the party's most electorally potent since 2000, took in $3,509,477 from donors. As of Thursday afternoon, the recount effort had raised $3,875,502. It's the largest donation drive for a third party in history — so what's actually going on?"
The Post also reported that that money was coming from donors, while more skeptical observers again see the hand of billionaire Gorge Soros behind it all. One of the so called experts who raised doubts over the reliability of the voting machines attorney John Bonifaz, whose National Voting Rights Institute is said to be heavily funded by Soros and has been around since 1994.
Stein's funding is coming from bots and small accounts that are difficult to trace back to George Soros. He is using thousands of smaller accounts to send Stein $160,000 every hour so that the amounts stay low and do not set off any red flags.
The donations come in at a constant rate 24 hours a day, which suggests that a computer program is being used to post the donations as opposed to real people making grassroots donations, as Stein claims. "If real individuals are in fact making the actual donations, the rate of the donations should drop over night when internet traffic is low," a Republican supporter pointed out.
"In the chart monitoring her donations, we see a sensational spike early in the morning when most people are sleeping; and if donations are in fact coming in from real grassroots supporters, then they should reflect this curve in some manner," it was noted.
Stein's campaign said she would file a petition Wednesday for a Michigan recount, after which Trump would have seven days to file objections. Trump's margin of victory in the state was a slim 0.22 percent of the total vote.
Michigan Republican Party Chairwoman Ronna Romney McDaniel said a recount would be "a waste of time and disrespectful to all Michigan voters."
Chris Thomas, director of the Michigan Bureau of Elections, said the recount would begin as early as Friday to meet a Dec. 13 deadline. Under state policy, the recount will be conducted by hand. He said election officials have heard a lot this year about "so-called fraud ... without any foundation in fact," and a recount settling that question could provide one "silver lining."
Stein's Wisconsin recount request included an affidavit from University of Michigan computer scientist J. Alex Halderman stating that a hand recount is the only way to determine whether there could have been a cyberattack that affected the results. He argued that records stored in electronic voting equipment could have been manipulated in an attack.
The AP on Monday updated its election night vote count in Wisconsin to correct the totals for both candidates in three separate counties. The updates dropped Trump's margin over Clinton from 27,257 votes to 22,460 votes, or 0.8 percent of the total vote. The corrections were made during the regular post-election canvass of the election-night vote.
In Pennsylvania, where Trump edged Clinton by about 71,000 votes, or about 1 percent of the vote, Stein filed a lawsuit seeking a statewide recount but it wasn't clear if the courts had the authority to order one.
Democratic Secretary of State Pedro Cortes said there was no evidence of voting irregularities or cyberattacks on Pennsylvania's voting machines, 96 percent of which record votes electronically and leave no paper trail.