Falklands' dispute: "I can't see Trump reaching out to Argentina"
Thursday, December 1st 2016 - 13:17 UTC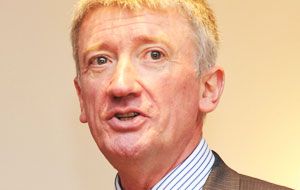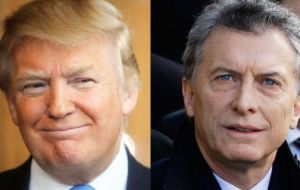 Argentina will never be able to reassert its sovereignty claims over the Falkland Islands under the watchful eye of Donald Trump who will back Britain, according to Ian Shields OBE, a leading academic and international relations lecturer at Anglia Ruskin University and former RAF Group Captain
Donald Trump's support for Britain will fly in the face of his predecessor President Barack Obama who "repeatedly backed Argentina's calls for talks over the Islands", according to a piece published in the Express.co.uk.
Mr Shields, who spent four months serving on the Falklands said "I can't see Donald Trump reaching out to Argentina. I think if he was going to reach out between a choice of Argentina and the UK, he would hands down reach out to the UK. I can't see Trump looking South at all."
Washington has tried to remain neutral in the dispute, as Buenos Aires tries to steer the lead in the Overseas Territory by the back door. But the Obama administration sided with Argentina back in 2011 when it called for negotiations between London and Buenos Aires over the Falklands Islands "sovereignty"
Mr Shields insists the new president-elect will not challenge Britain's sovereignty. "I will be massively surprised if Trump did anything but uphold British sovereignty of the Falklands because this is in keeping with rhetoric. And Trump is setting out to be different".
Mr Shields added: "America has a lot more in common economically, historically and in ways of political thinking with the UK in ways more than it does with Argentina and anywhere else in the world."
Argentina's 1982 invasion of the Islands sparked a war which left around 650 Argentine soldiers, 255 British and three Islanders dead. In 2013, a referendum asking whether the Falkland Islanders supported the continuation of their status as an Overseas Territory of the United Kingdom prompted an almost unanimous response from the island's inhabitants. On a turnout of 92% an overwhelming 99.8% voted to remain a British territory, with only three votes against.