Magallanes Region, extreme south of Chile with the best third quarter performance
Thursday, December 1st 2016 - 19:56 UTC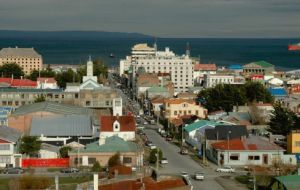 Magallanes Region, in the extreme south of Chile, was the region with the strongest economic activity during the third quarter compared to the same period a year ago. Magallanes was closely followed by the regions of Tarapacá and Atacama to the north of the country, according to the latest release from the stats office, INE.
The extreme south region expanded 15%, Tarapacá, 12.4% and Atacama, 9.2%, compared to the national Chilean average for the third quarter of 1.6%.
At the opposite extreme were the regions of Los Lagos, down 4.9%; Arica and Parinacota, both with negative growth of 4.7%.
The Antofagasta region managed to cut a negative streak of several quarters, with a 2.9% growth in the July September, helping to moderate the last twelve year performance to minus 0.4%.
The whole detail of performance follows, Tarapacá (12,4%), Antofagasta (2,9%), Atacama (9,2%), Valparaíso (0,9%), O'Higgins (8,0%), Maule (4,8%), La Araucana (2,9%), Los Ríos (0,5%), Aysén (2,5%) and Magallanes (15%). At the opposite end, Arica and Parinacota (-4,7%), Coquimbo (-1,8%), Biobío (-0,5%) and Los Lagos (-4,9%).