Strong interest for Falklands' squid licenses, despite poor catches in 2016
Friday, December 2nd 2016 - 07:58 UTC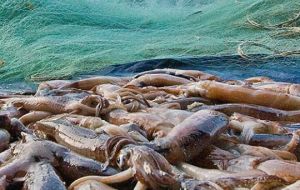 Despite a dismal last season for Illex fishing in the Falkland Islands, with very low catches, interest in licenses for the coming season is holding up and the process is likely to be oversubscribed, confirmed MLA Phyl Rendell last week.
She noted that in the past such poor seasons have been followed by much reduced interest in licenses, but happily this is not the case for 2017. "Some of the previous high catches are likely to be a factor, although the clear refund policy is also a factor."
MLA Rendell also assured: "The requirement for compliance on vessel standards, operating practices, crew care and welfare has again been impressed on all those involved in the industry. This will be reinforced through the licensing process."
Both Falkland calamari fishing seasons were open for the scheduled duration in 2016, she said, "signaling a return to normal conditions after the unusual Illex invasion of the fishery in 2015."
The first season was characterized by late immigration of the bulk of the calamari biomass, so that the size averages of squid caught were small. The second season obtained generally modest catches, until a strong, exception-ally late immigration occurred on October 1. The aggregate calamari target catch for 2016 was 45,705 tonnes; a median total (seventh of the past 15 years).
Additionally 2016 had a continuation of the relatively high hake catches and the continued poor performance of the rockcod fishery. The changing proportions of species in the finfish fishery are presenting challenges to fishery managers and fishermen alike, explained MLA Rendell. (Penguin News)