Evo says he didn't know LAMIA was Bolivian, but flew doomed aircraft a fortnight before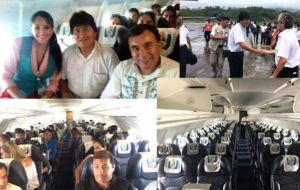 Bolivian President Evo Morales Friday admitted that LAMIA's general manager Gustavo Vargas Gamboa used to be one of his pilots but added that he did not know what he was working as after his retirement from the Air Force. He even denied knowing LAMIA was operating under Bolivian registration. A LAMIA British Aerospace 146 - RJ 85 crashed Monday night in Medellín, Colombia, killing 71 people onboard including five Bolivian nationals, although most victims were from the Brazilian Chapecoense football club.
But pictures of Morales flying as a passenger aboard that very same aircraft this past November 15 were retrieved from a personal Facebook account and spread through social media to add to the president's damaged credibility, particularly in view of the fact that the Director of Bolivia's National Aeronautical Registry of the General Directorate Of Civil Aeronautics (DGAC) is no other than Gustavo Steven Vargas Villegas, son of Vargas Gamboa.
Morales vowed that a most thorough investigation would be carried out and that nobody would be spared. But he underlined that "lack of fuel, that's the kind of thing that needs be checked."
The Bolivian president picked the same day the five crash victims were flown in from Medellín for a homeland burial to speak about the Organization of American States, which was, in his own words, "digging its grave" with the Uruguayan Luis Almagro as secretary general. He insisted Bolivia was better off under Chilean (José Miguel) Insulza.
Evo was critical of the OAS' role in the Venezuelan crisis. "When a secretary-general is more pro-capitalist, more pro-imperialist, he puts the OAS at the service of the United States, and I repeat what I said: with Insulza we were better off than with Almagro," said morales as he prasied CELAC for being the voice of the peoples of America and the Caribbean, because (...) the OAS does not express the feelings and the suffering of the countries."