Hudson volcano yellow alert in Patagonia: memories of the 1991 eruption
Sunday, December 4th 2016 - 10:45 UTC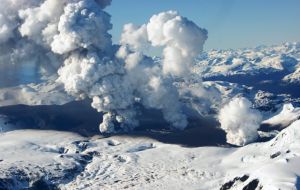 The Patagonia territories of Chile and Argentina, Aysen region and Santa Cruz province are under yellow alert since Saturday evening given the growing seismic activity of the Hudson volcano. The alert is specifically referred to the towns of Los Antiguos and Perino Moreno, Argentina and the Chilean communes of Aysen, General Carrera, Rio Ibañez and Chile Chico in the Aysen Region.
The growing activity was recorded in monitoring stations implanted next to the Hudson volcano in Aysen and connected to the South Andes Volvanic Observatory, which is immediately relayed to the Emergencies Office from the Home Ministry and the Geology and Mining Service in Santiago.
The Hudson volcano is remembered because of its virulent eruption back in August 1991, which because of the prevailing winds covered the whole of the Santa Cruz province, which had to be declared in sanitary and economic emergency.
The volcanic cloud also reached the Falkland Islands covering much of the fields creating a serious problem for the sheep industry and challenging air links given the volcanic dust in the air.
In October 2011 there was also a yellow emergency following seismic activity which forced the evacuation of residents in an area of a 45 kilometers radius.
"The internal dynamics of the volcanic system has varied and the magnitude of seismicity is above its base level", said the Chilean authorities report in volcanologist jargon.
The volcano, considered one of the most active in South America, is located some 15 kilometers from the Pacific coast, has an altitude of 1.905 meters and the main crater diameter is 500 meters.
Back in 1991 the volcano eruption let out a cloud of ashes and gas which reached 18.000 meters of altitude expanding over an area of 40.000 sq kilometers towards the northeast, including the Falklands, Argentine, Brazilian and Uruguayan territories.