EU sigh of relief: Austria votes for independent, rejects anti migrant candidate
Monday, December 5th 2016 - 11:31 UTC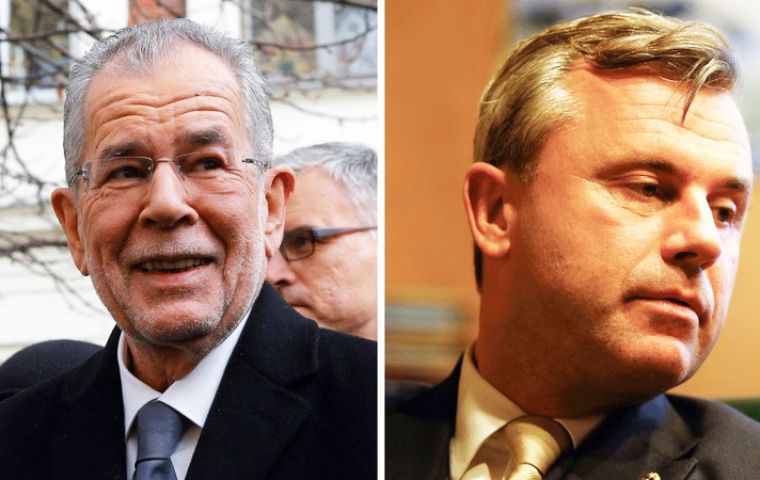 Independent candidate Alexander Van der Bellen, a pro-EU left wing who preached moderation, has won Austria's presidential election on Sunday over right-wing populist Norbert Hofer. A former leading member of the Green Party, Van der Bellen was the hope of Austrians who wanted to stop Hofer, a leader of the anti migrant and anti EU Freedom Party.
Results released shortly after the polls closed on Sunday, showed Van der Bellen with 53.5% of the vote to Hofer's 46.4%. While the final result will not be official until absentee votes are counted on Monday, officials said the outstanding ballots would not change the outcome.
An hour after polls had closed Hofer conceded he had been soundly beaten by former Greens leader Van der Bellen. "I am infinitely sad that it didn't work out," Hofer said in a posting on his Facebook page.
Austria's presidency is a mostly ceremonial post, but Sunday's election was being watched as a barometer of how populists in other European Union countries might fare in coming months, including France's National Front leader Marine Le Pen, who is expected to vie for the presidency in 2017.
Sunday's election was the re-run of a May vote that Van der Bellen won by less than 1 percentage point. A new vote had to be held following a court ruling that annulled the first election after Hofer's Freedom Party claimed widespread irregularities.
In comments on Sunday, Van der Bellen noted the worldwide attention Austria's election was receiving. "What happens here today has relevance for all of Europe," he said before casting his ballot.
Other populist politicians who want their countries to leave the European Union were supportive of Hofer as they look ahead to elections they will face themselves next year. Both France's Le Pen and anti-immigrant politician Geert Wilders of the Netherlands tweeted their support for Hofer.
For his part, Hofer struck a more conciliatory tone as he showed up to vote on Sunday. "I want to commit myself to changing this union in a positive way. And I don't want Austria to leave the European Union, that I have to say very clearly," he said in his home village of Pinkafeld, south of Vienna. "[But] our strength is not to be an amorphous entity, our strength is diversity, a diverse European Union."
With most Austrians critical of the EU but not to the point of wanting to leave it, the Freedom Party no longer suggests that Austria would be better off without Brussels. Instead, it is pushing for an EU of loosely allied members mostly sharing economic ties instead of a close political union.