"La Sanmaritiniana" reaches Puerto Deseado and is greeted by militant from a radical group
Monday, December 5th 2016 - 08:20 UTC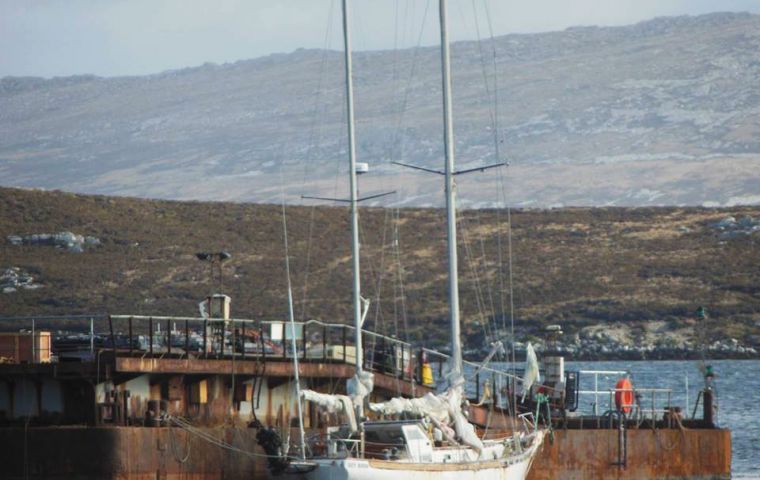 The Argentine registered vessel "La Sanmartiniana" is reported to have reached Puerto Deseado, Santa Cruz province on Sunday, following a full week's sailing from Stanley, where it had left on Sunday 27 November. Militants and local authorities lined up at the port to celebrate her arrival.
The vessel spent over a year in the Falklands after it was rescued abandoned and adrift in October last year, in the South Atlantic by the Falklands Fisheries Protection vessel, FPV Protegat.
The announcement of the arrival was done by the extreme radical group Quebracho, which has among its hobbies burning Union Jacks, rampaging travel agencies that sell cruise tickets to the Falklands and protesting violently at the UK embassy in Buenos Aires.
"They were received outside the port since they sailed with no engine and only with the wind from Malvinas, and thus needed towing from the outer bay to her mooring place", said the release, which turned up with militants at the port to celebrate the recovery.
According to the report, "La Sanmartiniana" allegedly registered as belonging to the FIPCA, Interactive Foundation for the promotion of Water Culture, had left from Ushuaia in September 2015 with a crew made up among others with "Quebracho militants and members of La Campora", the youth organization which responds to Maximo Kirchner, son ex president Cristina Fernandez. (CJ).
During the trip she apparently came across a severe storm and it was decided to abandon the vessel, although there was a previous attempt of towing La Sanmartiniana by a fishing vessel. However the line snapped and the yacht was left adrift and believed lost. But FPV Protegat located her adrift, and towed her to FIPASS, Stanley's port waiting for he to be claimed.
This happened earlier this year, July/August, when FIPCA turned up in Stanley with the documents and the recovery process took off. Apparently the Falklands helped by not charging the full bill for rescuing and months of mooring. The exact amount has not been confirmed.
The final destination of La Sanmaritiniana, is Mar del Plata.