Renan Calheiros suspended from Parliament during his trial for corruption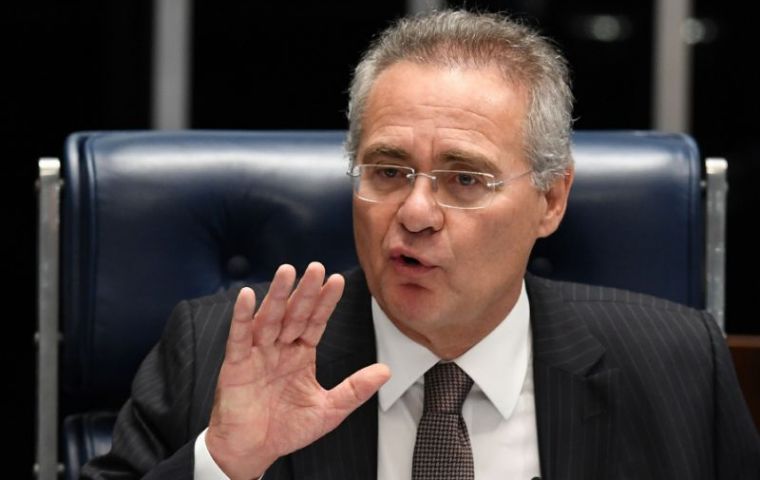 Brazil's Senate Speaker Renan Calheiros was suspended from duties by a Supreme Curt judge Monday, pending his trial where he faces corruption charges in what constitutes anothe blow to President Michel Temer's administration. The decision, made by judge Marco Aurelio Mello was effective immediately, but needs to be confirmed by a majority of judges on the supreme court bench, a court official said.
An opposition group, Rede, had called for the suspension, arguing that an official in line for presidential succession -- as the Senate speaker is -- cannot hold his or her position while facing trial. The supreme court last week ordered Calheiros to face trial for alleged embezzlement. He has denied accusations he used public funds to make maintenance payments to a woman with whom he had a child. In a separate case, Calheiros is also among numerous top politicians including an ex-president and lawmakers accused of helping steal billions from state oil firm Petrobras.
Protesters on Sunday held demonstrations demanding Calheiros' ouster, with a crowd in Brasilia chanting "Lock Renan up!" as they performed a mock funeral with a coffin inscribed "corruption."
Calheiros had tried unsuccessfully last week to push through an urgent reform that would challenge judges' powers to investigate corruption.
Temer went from vice-president to president this year when he and Calheiros drove proceedings that saw Brazil's previous president, Dilma Rousseff, impeached for fiddling the government's books. Rousseff's own predecessor, Luiz Inacio Lula da Silva, is facing three corruption-related court cases pertaining to the so-called Petrobras affair, which has caused Temer to lose some of his cabinet ministers, although the president himself is not yet under probe.