Italian model plans to go ahead with referendum promise to "No" voters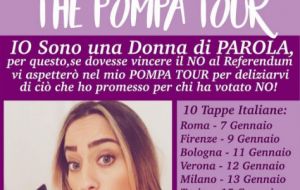 Following up on Madonna's example in offering sex acts for political votes, Paola Saulino, an Italian model who works in Los Angeles and had promised to perform oral sex on all those who voted "No" in last weekend's referendum in her home country, has realeased a schedule for her pledge-honoring 'Pompa Tour.'
"I am a woman of my word," Saulino announced. The American singer promised to give oral sex to anyone who voted for Hillary Clinton in the US presidential election, but doesn't appear to have kept her promise. 'Pompa' is Italian slang for fellatio.
Italian voters were asked whether they wanted to amend the constitution to change how parliament is run. Voters rejected the proposals, however, 60 per cent to 40.
Saulino works in Los Angeles but says she will fly home to Italy for the 10-city tour. "Someone asked me how far I will go on this story. It will go ahead," she wrote on Instagram.
'No' voters wishing to collect their reward must fill out a booking form to be sent back to Saulino. "Details will be provided in response to a private mail, in order to ensure the utmost confidentiality and serenity, attached you will find the booking form with a number which must be completed and sent," she wrote on Facebook.
Commenters expressed a mix of excitement and horror at such a promise and, in some cases, disappointment that the Pompa Tour didn't feature their own town.
Meanwhile, many alleged the entire situation was a PR stunt, pointing to the fact that no application form was made public, with some Facebook users describing the stunt as "sleazy" and "disgusting."
"You're the shame of the female gender," wrote one commenter on the model's Facebook page, while another simply described Saulino as a "hussy."