Maduro calls for "anti-coup" test as dialogue with opposition dies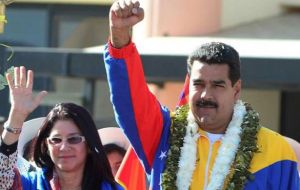 During a "commemorative assembly" marking the fourth anniversary of the day the late Hugo Chavez picked him as his successor, Venezuelan President Nicolás Maduro called for a powerful civilian and military mobilization next December 17 to make a "anti-coup" test in view of the alleged threats from "imperialism" and "national oligarchy."
"On December 17 we will conduct a rehearsal of popular mobilization to carry out the anti-coup plan, the plan of peace and sovereignty of the Venezuelan people in the face of threats from imperialism and the national oligarchy," Maduro said during a ceremony broadcast on compulsory radio and television.
"I say here today, four years after the departure of our commander Hugo Chavez in his historic proclamation, [that] a new cycle of expansion and growth of the victorious forces of the Bolivarian revolution founded by Hugo Chavez has begun in Venezuela for 2016-2026 and we must prepare ourselves," Maduro claimed as he warned that "2016 should end in 'offensive' [mode] and hence the importance of the special test next December 17," because "2017 and 2018 are two decisive years for the expansion of the Venezuelan revolutionary force," he added. Maduro also said he would surrender, "under no circumstances."
Meanwhile, National Assembly Speaker and opposition leader Henry Ramos-Allup said Thursday that dialogue between the opposition and the Venezuelan government "is absolutely dead" and that it makes no sense to continue in it because "it has failed As an instance. "
"The credibility of the opposition would be very much compromised if we were to continue in that game of talking, promising, stopping, not stopping, when there are no results, that does not make sense," Ramos-Allup said during a TV interview. He added that participating in the opposition Mesa de la Unidad Democrática (MUD) alliance is a voluntary act, so no one "forces" them to remain in it.
Ramos-Allup underlined that the opposition paid a "very high political cost" for its participation in talks with the government, where "nothing was achieved," because the government has not fulfilled its part, which led the MUD to skip a round of talks planned for December 6, when Vatican envoy Monsignor Claudio Maria Celli, Secretary General of the Union of South American Nations (Unasur), Ernesto Samper, and other mediators handed over a series of proposals to initiate a review stage of the dialogue, and announced that on January 13 it will be "reactivated." The opposition announced that it will resume street demonstrations and that it disagrees with two points raised by the mediators.
Regarding Mercosur's recent sancions against Venezuela, Argentine Foreign Minister Susana Malcorra explained Thursday that it was not a suspension but a cessation of its participation in Mercosur," as agreed by Argentina, Brazil, Uruguay and Paraguay because of is failure to adapt to Mercosur norms. Argentina will take over the rotating presidency of Mercosur next January 1, but without the traditional presidential summit, said Malcorra. The foreign ministers of Mercosur's four founding countries will meet in Buenos Aires next week to begin discussing the action plan for the first half of 2017 and Venezuela will not be present.
Malcorra noted, however, that the four founding nations of Mercosur maintain "the hope that Venezuela will adapt as soon as possible to the rules of the bloc and that, once its level of commitment is corroborated, it will become a member again. Still, she stressed that "one can not be a member of a club and have access rights without complying with obligations."