Falklands: Two Argentine forensic experts will work with the Red Cross team at Darwin cemetery
Saturday, December 10th 2016 - 12:43 UTC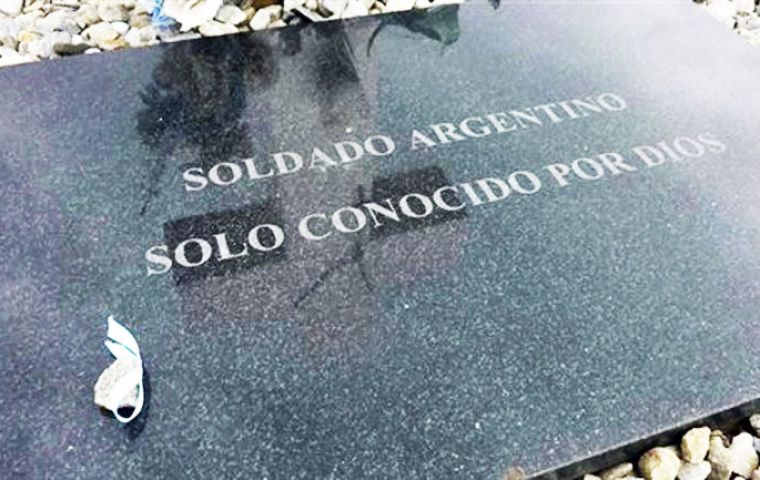 Two Argentine forensic experts will be part of the group under the Red Cross that will collect DNA samples from the remains of the Argentine unidentified combatants buried at the Falkland Islands' Darwin cemetery with the purpose of fulfilling the task of identifying the graves which read "Argentine solider, only known unto God".
A brief release on Friday from the Argentine foreign ministry states that on December 8 and 9, delegations from Argentina and the United Kingdom, met in Geneva, according to what had been agreed on 29 November, to discuss the terms of the joint mandate to be extended to the Red Cross International Committee for the identification of the fallen in Malvinas, buried in Darwin.
"It is an Argentine initiative destined to identify those heroes that fought for the motherland and to bring solace to their families. The purpose of the initiative is strictly humanitarian and intends to close a standing historic debt with the relatives of the combatants, fallen during the South Atlantic conflict and buried in the Darwin Cemetery under the caption, "Argentine solider only known unto God", and which in merit to this initiative can be identified at their place of rest in the cemetery, with name and surname".
According to the mandate agreed in principle between Argentina and the UK, under the sovereignty safeguard clause, the Red Cross will organize a group of forensic experts with the participation of two Argentine experts with the purpose of collecting DNA samples from the unidentified soldiers, that will be later compared with the samples taken from next of kin who voluntarily have consented to the identification process.
If both governments extend their conformity to the instruments negotiated in Geneva, this humanitarian initiative should get moving sometime in 2017, concludes the Argentine release.