Venezuelan leader calls Macri "coward" and says Argentine ambassador should leave the country
Friday, December 16th 2016 - 11:34 UTC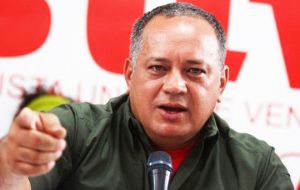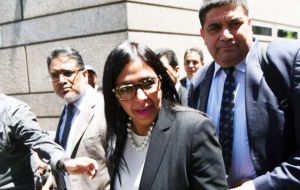 Diosdado Cabello, considered one of the three most powerful persons in Venezuela called Argentine president Mauricio Macri a "coward", described the Argentine ambassador in Caracas as an "enemy" and suggested that if he had any dignity left he should pack his suitcase and leave Venezuela.
Ex Army officer Cabello made the statement during his television program, where he appears swinging a big stick blasting the opposition and warning anyone who dares challenge the Bolivarian revolution. Basically the "big stick" program pretends to emulate ex president Hugo Chavez diatribe "Alo president" and current president Nicolas Maduro show, "Contact with Maduro".
And the latest outburst against Macri and Argentina follows Wednesday's events when non invited Venezuelan foreign minister Delcy Rodriguez tried to crash into a Mercosur meeting at the Foreign ministry building in Buenos Aires and allegedly, according to a video released by the Venezuela embassy in Buenos Aires was beaten by riot police and thrown onto the ground.
This was denied by her peers from Mercosur and police reports, but according to Cabello the Venezuelan minister was attacked by "Macri's thugs", but despite all it was "a popular victory, a victory for the people" since Rodriguez managed to slip into the ministry.
"And the first thing comrade Delcy demanded was that the Venezuelan flag be flown next to the other flags of Mercosur members" said Cabello wielding the stick. "And what did the (Mercosur) foreign ministers do?, they didn't even have the courage to address her and they suspended the meeting. This was because a Venezuela woman was there, a clear example of our Venezuelan motherland".
Cabello then went on to say that all this was done on orders from Macri, "from the coward Macri, yes I'm calling you a coward, your goons beat up Delcy a woman"!
The man of the stick then went after the Argentine ambassador, "what does this ambassador in Venezuela have to say? Did he say anything? Because I'm outraged at what happened...! This ambassador if he had just a little bit of dignity should pack his suitcase and flies out of Venezuela, did you listen to me, Sir? Make your suitcase and leave, you're an enemy of the motherland of Bolivar, your government is an enemy of Venezuela, leave, run off right now".
Cabello, an ex officer close to Chavez, has been governor, and head of the National Assembly until the opposition won most seats. Since then he heads the opposition in parliament and together with Maduro and Army Chief Vladimir Padrino are considered the most powerful men in Venezuela.