Colombia's Central Bank lowers interest rate to tack inflation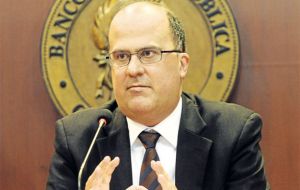 The Central Bank of Colombia Friday surprisingly decided to lower the interest rate by 25 basis points to 7.50 percent to support the recovery of the economy and to push inflation towards the target set for the coming semester.
The decline in the cost of money to curb inflation came after the monetary authority held it steady over the past four months, ending a bullish cycle in which it raised a total of 325 basis points between September 2015 and July.
The widely split decision was voted by four of the seven board members, while the remaining three were in favour of keeping it stable. This is the first reduction of the reference rate since March 2013. Most of the market and analysts expected the issuing agency to leave the interest rate stable this month.
"The central axis of today's decision is the greater confidence in the consolidation of the process of reducing inflation and the convergence of inflation to the goal," said outgoing bank manager José Darío Uribe. He also explained that projections for next semester's inflation was set between 2 and 4 percent.
In turn, finance minister and board member Mauricio Cardenas said that the reduction in interest rates "comes as a breath of fresh air to helps stimulate demand and economic activity."
The bank estimated that the economy would expand this year slightly below its central forecast of 2 percent.
The bank's decision came after several sectors and President Juan Manuel Santos had called for several months to begin reducing the rate to encourage a recovery of the fourth largest economy in Latin America.