Norwegian low cost airline wants to operate in Argentina
Saturday, December 17th 2016 - 16:54 UTC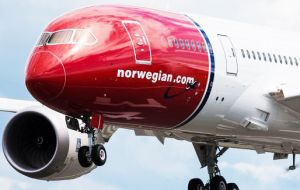 Norwegian Air Shuttle, one of the largest low cost airlines in Europe, has made the decision to start start operating in Argentina in November next year. "We have taken that decision and for that we have already taken some concrete steps to be able to fly domestic and regional routes in Argentina," said Norwegian spokesman Alfons Claver.
A delegation from the Norwegian company visited Patagonia and Cordoba and met with government officials. After that trip, the decision was made, it was announced. The company has appointed Ole Christian Melhus, a pilot who was Deputy Director of Norwegian Group Flight Operations for the last thirteen years, to be in charge of the project in Buenos Aires. Melhus plans to attend a December 27 meeting with Argentine government officials where airline routes are to be allocated. Five companies are expected to be there: Flybondi, Avian Airlines, Avianca (Argentine subsidiary), American Jet and Andes.
Norwegian is among the three lowest cost airlines in Europe. It operates from traditional airports, as opposed to others which reduce costs by serving non-mainstream airports.
The number of airline trips per capita in 2015 was 0.23 trips in Argentina, 0.45 in Chile, 1.04 in the United States and 1.73 in Spain. "Air traffic can double or even triple, which would require 100 to 200 more commercial aircraft over a 5 to 10 year horizon. The company will stimulate new demand in one of the world's most expensive and poorly served markets," Claver explained.