President Hassan Rouhani wants Iran to have nuclear-powered warships
Saturday, December 17th 2016 - 05:40 UTC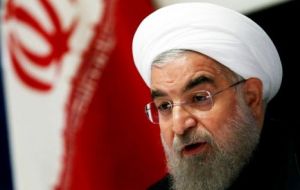 After accusing the United States of violating their nuclear deal, Iran's President Hassan Rouhani has ordered the head of the country's Atomic Energy Organisation to outline the development of nuclear-powered warships.
Earlier in December the US Senate voted to extend the Iran Sanctions Act by 10 years, a decision that was criticised by the Iranian foreign minister at the time who said it showed the US government had "a lack of credibility".
In a letter read out on state television, Rouhani condemned the move as a breach of the 2015 nuclear accord and told the nation's scientists to begin "planning the design and production of fuel and nuclear power plants for maritime transport".
The leader also said he had ordered the foreign minister to mount a legal challenge against the US. The 2015 nuclear accord between Iran and six world powers lifted a variety of sanctions against the nation in exchange for restrictions on the Iranian nuclear programme. However, the US kept its own restrictions, which were set to expire at the end of the year, but were extended not only because of nuclear issues, but also over concerns about ballistic missile-testing and human rights in the country.
The nuclear marine propulsion technology Iran has vowed to develop uses a nuclear reactor to generate electricity on a ship. Tensions in the Middle East have grown since the US elected Donald Trump as President, Iran's defence ministry sources said.