Four people die as Colombian freighter fails takeoff attempt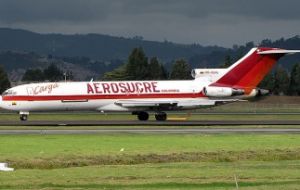 A Colombian freighter belonging to the airline Aerosucre failed to get properly airborne from Puerto Carreño and ended up crashing onto the ground and bursting into flames five nautical miles from the runway.
The Boeing 727-200F, registration HK-4544, with a crew of five, was scheduled to fly to Bogota when it broke through the airport perimeter fences at 5.01 pm local time Tuesday. It eventually became airborne only to irreversibly lose altitude again a few moments later
Two people were rescued alive from the site of impact but one of them died later in the day at a hospital. The causes of the accident are yet unknown.
It is the second major aviation accident in Colombia in less than a month, following Lamia's Avro RJ 85 carrying the football players of Brazilian team Chapecoense, which crashed November 28 on approach to Medellin due to lack of fuel which was the consequence of the pilot's reckless conduct.