Falklands' Sea Lion oil field development "break-even price is US$ 45/bbl"
Friday, December 23rd 2016 - 00:39 UTC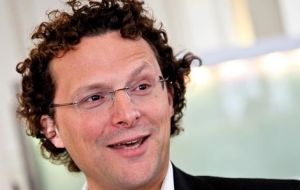 Rockhopper Exploration has issued an update on planning for Phase 1 of the Sea Lion oil field development in the offshore North Falkland basin. Operator Premier's latest estimate of capex to first oil is US$1.5 billion, with life of field costs (capex, opex, and lease) of around US$35/bbl for Phase 1.
Rockhopper CEO Sam Moody described this as "highly attractive" in the context of the current oil price. The estimated break-even price is US$45/bbl.
The partners have submitted an environmental impact statement and revised draft field development plan to the Falkland Islands government, and discussions are set to continue on a range of operational, fiscal, and regulatory matters.
They have also reached a settlement on an insurance claim relating to costs incurred on the Isobel Deep exploration well during the 2015/16 North Falkland basin exploration campaign. Value is US$90 million (after deductions) on a gross basis.
Elsewhere, Rockhopper is working with legal advisers on ways of obtaining compensation and damages from the Republic of Italy through arbitration proceedings.
This follows the Ministry of Economic Development's decision not to award the company a production concession covering the Ombrina Mare field in the Adriatic Sea.
Rockhopper has also given notice to the operator of the Area 3 exploration study agreement offshore Malta, and to the Maltese regulator, that it does not intend to participate in any extension of the current term, set to expire this month.