Falklands' additional flight should call at Comodoro Rivadavia, says local Senator
Saturday, December 24th 2016 - 16:00 UTC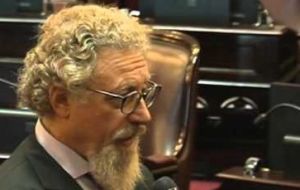 The additional flights with South America from the Falkland Islands, in the framework of the recent Argentine/UK discussions, will be making a stopover at Comodoro Rivadavia, Argentina, according to Senator Alfredo Luenzo who represents the province of Chubut in the federal congress.
Senator Luenzo revealed that last week foreign minister Susana Malcorra confirmed, "as most likely" that in case additional flights with Malvinas effectively take off, they will be calling at Comodoro Rivadavia.
"A few hours ago I was informed that London has accepted that flights to be resumed sometime in late 2017, early 2018 will be linking our city of Comodoro Rivadavia with the Malvinas Islands and this commitment has the support from Aerolíneas Argentina", the Senator published in his official site.
Luenzo also mentions that the Comodoro Rivadavia Chamber of Commerce, Industry and Production has asked he contacts foreign minister Malcorra to request the reconnection of Comodoro Rivadavia with Malvinas, involving direct flights to recover the existing link before 2 April 1982.
"It is most important to recover the links we had in Comodoro Rivadavia with the Islanders before 1982, when the Islanders would fly in to the continent weekly, here they received health care at our hospitals and clinics, stayed at our hotels, went shopping and enjoyed tourism", added Senator Luenzo.
In this context, Argentina and the UK reached an agreement to advance the possibility of resuming flights from Falklands/Malvinas to third countries with calls in Argentina. Argentine Deputy foreign minister Pedro Villagra Delgado reported that during most of the year the different issues contemplated in the bilateral agenda were addressed and an understanding, in principle, was reached regarding flight to the Islands with stopovers in Argentina.
Following on this Argentina and the UK will be contacting Brazilian and Chilean authorities to begin identifying those airlines which might be interested in the route and that is estimated to begin flying in a year's time, concludes the report from Senator Luenzo.