Tucuman Airport evacuated due to yet another bomb threat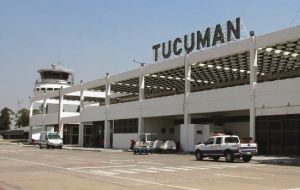 Tucuman's Teniente Benjamin Matienzo Airport, 1,250 km north of Buenos Aires, was evacuated Saturday after a bomb threat in the second such incident at the air terminal in one week. The previous case turned out to be a joke.
The Airport Security Police (PSA) evicted the facilities of the airport that remained closed for several hours. All departing flights had to be delayed while all incoming aircraft were diverted to nearby airports where passengers were bused to their destination.
"I was warned that any plane landing or taking off today is going to be a display of fireworks even in the daytime," said the threat.
Last Wednesday a man approached the Latam Argentina counter and said, "I came to wait for my mother-in-law, if the plane falls, it's because I put a bomb in it," he said. He ended up detained and the flight delayed until it was found to be a joke.