Petrobras/Total partnership; French company plans US$ 1bn annual investments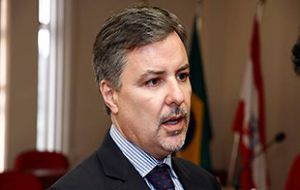 The Brazilian unit of French energy giant Total SA in Brazil, Total E&P do Brasil, plans annual investments of US$1 billion in Latin America's largest economy, Valor Econômico quoted Maxime Rabilloud, who heads the Brazilian operation. Rabilloud said Total and Petrobras will keep in contact regarding the possibility of making other deals and forging future partnerships.
The decision to expand operations in Brazil comes on the heels of Total agreeing to acquire assets from Petrobras as part of the latter company's asset sales program. On December 21, Total and Petrobras signed an Assets Package Agreement in the framework of their Strategic Alliance announced in October 2016. This agreement reinforces the joint partnership and cooperation between the two companies, in the Upstream and Downstream sectors, covering operations, research and technology, Total said in a press release.
In the Upstream, the technical cooperation will be strongly reinforced between the two companies including joint assessment of the exploration potential in key prospective areas in Brazil and the development of new technologies, Total said.
Total will also become partner to Petrobras in two high-quality pre-salt licenses of the prolific Santos basin: the BMS-11 with the "Iara" fields currently under development where Total will acquire a 22.5% interest from Petrobras, and in the BMS-9 with the Lapa field which just entered into production and where Total will become the Operator of the license with the acquisition of a 35% interest from Petrobras.
The two companies will combine their internationally recognized expertise in deep-water to jointly develop solutions for long subsea tie-backs, reservoirs with high CO2 content and digital geosciences data management. Total will also offer to Petrobras the option of taking a 20% stake in the Perdido Belt deepwater exploration Block 2 recently awarded in Mexico.
In the Downstream, Total will bring to Petrobras its worldwide experience by entering the integrated gas and power market in Brazil, the French company said. Total will acquire from Petrobras some regasification capacity in the Bahia LNG terminal and a 50% interest in two co-generation plants located in the Bahia area as well as pipeline transport capacity, enabling Total to supply gas to the two co-generation plants.
Petrobras and Total jointly participate in 19 consortiums worldwide in Exploration and Production. In Brazil, the companies are partners in the development of the giant Libra field, which is the first Production Sharing Contract in the Brazilian pre-salt Santos basin. Outside Brazil, Petrobras and Total are partners on the Chinook field in the US Gulf of Mexico, on the deep-water Akpo field in Nigeria and on the gas fields of San Alberto and San Antonio/Itau in Bolivia, as well as in the Bolivia-Brazil gas pipeline.