Uruguay indifferent to the death of the country's last military dictator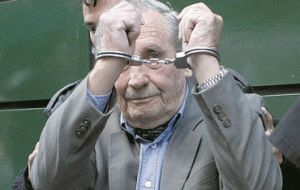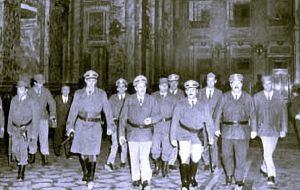 Former General Gregorio Alvarez, the last leader of Uruguay's dictatorship, 1973/1984, died in Montevideo on Wednesday while serving a prison sentence for human rights abuses. He was 91. The military's health service said he died at the Central Hospital of the Armed Forces. He was buried in a private ceremony on Wednesday.
Suffering from dementia and respiratory problems, he was transferred two weeks ago to the Military Hospital.
Under General Alvarez, Uruguay was part of the secret alliance of South American dictatorships known as Operation Condor, in which military leaders cooperated in persecuting and killing one another's dissidents.
General Alvarez, himself the son of a general, participated in the 1973 coup that dissolved Uruguay's legislature amid a government crackdown on the Tupamaro rebels, who were trying to seize power. One of General Alvarez's brothers had been killed by Tupamaro attackers in 1972.
General Alvarez became chief of the army in 1978 and president in 1981. He was the third president of the so called civilian-military regime after Aparicio Mendez, Alberto Demichelli. The dictatorship imprisoned democratic critics and censored the news media.
Growing resistance from inside the military, who felt it was time to return to the barracks and allow free elections, left Alvarez increasingly isolated and finally, following negotiations with political leaders, in 1984 the regime handed power to an elected to an elected civilian government, headed by Julio Maria Sanguinetti.
Rather than transfer power to the democratically elected president, Sanguinetti, Alvarez stepped down two weeks before and the head of the Supreme court acted as interim president.
The process in Uruguay coincided with the wave of regional dictatorships starting to recede. Argentina's military rule had ended a year earlier, following the military disaster in the Falklands, and Brazil's ended a year later.
Hundreds of suspected leftists were arrested and tortured during the dictatorship, and historians allege over 100 Uruguayans were killed, most of them while in the custody of the government's Argentine allies.
In 2009, General Alvarez was sentenced to 25 years in prison for his role in the deaths or disappearances of 37 Uruguayans under Operation Condor. During his trial, he said he knew nothing of illegal abductions and forced disappearances.
Prosecutors argued that he had been in a position to know what had happened to the political prisoners, first as army chief and later as president.
Sanguinetti said the death of Alvarez had no outstanding repercussion for the current political and social situation of Uruguay.
"The death of Alvarez has no particular repercussion , since he had been away and distant for many years from all political power circumstances and besides was incarcerated. Thus his death had no outstanding repercussion in the current political situation", commented the former president.
Sanguinetti who succeeded Alvarez in 1985 and was again reelected in 1995/2000, said he had confronted the deceased general all his life, both during the dictatorship years and the transition period to democracy.
However despite these confrontations, "in an attitude of compassion I will not recall or refresh those clash episodes we had and we continue to have because of his actions in the country's history"
Sanguinetti concluded saying Alvarez will be remembered as a figure who exercised power dictatorially under a military process, and was the last of that chapter.