Prosecutor Nisman's filing to be reopened and investigated, Criminal Court rules
Friday, December 30th 2016 - 05:00 UTC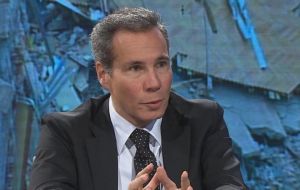 The Federal Criminal Court of Appeals Thursday ordered the reopening of the case filed by former AMIA Special Prosecutor Alberto Nisman four days before he was found dead against then Argentine President Cristina Fernández de Kirchner for the alleged cover-up of the Iranian nationals suspected of being behind the AMIA bombing in July, 1994.
The court agreed to grant the Delegation of Argentinean Israeli Associations (DAIA) the right to act as plaintiffs and removed Judge Daniel Rafecas and Appeals judges Eduardo Freiler and Jorge Ballestero from the case. They had twice refused to further investigate Nisman's charges saying they were unsubstantiated.
The case now goes to a new judge to be selected by draw on Friday. But prosecutor Gerardo Pollicita will remain in charge of representing "the people." Pollicita had asked Rafecas and other judges to issue warrants to pursue various lines of investigations but the magistrates continuously refused to grant them.
Nisman had denounced that the Memorandum of Understanding signed by the Kirchner government with the Islamic Republic of Iran on the citizens of that country accused of having planned the 1994 bombing constituted a cover-up since it removed them from the rules of Argentine Judiciary System, which is expressly forbidden by the Constitution (article 18).
Nisman was found dead with a .22 caliber bullet in his head. The Kirchnerite officials and their propaganda apparatus have always maintained it was a clear case of suicide, while Nisman's ex-wife, Federal Judge Sandra Arroyo Salgado, mother of Nisman's two daughters, has openly voiced she had evidence to prove it was murder.
The DAIA managed to have the investigation re-opened by introducing new tests this year, which basically refer to a telephone conversation between then-AMIA President Guillermo Borger and then Foreign Minister Hector Timerman.