Death of Greek ambassador to Brazil seemingly a crime of passion arranged by his wife
Saturday, December 31st 2016 - 06:38 UTC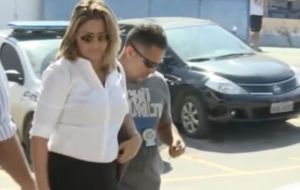 Greece's ambassador to Brazil, Kyriakos Amiridis, was assassinated in a suburb of Rio de Janeiro, apparently in a "crime of passion" planned by his wife - of Brazilian origin - and her lover, a military policeman who is suspected of having actually committed the murder, police said this Friday.
The diplomat's wife, Françoise de Souza Oliveira, 40, her lover Sergio Gomes Moreira, 29, and a cousin of the latter's, Eduardo Moreira de Melo, 24, were arrested for the murder of the ambassador, 59, police commissioner Evaristo Pontes Magalhaes announced at a press conference.
Rio's police opened a "missing person" investigation when de Souza Oliveira reported on Wednesday she had last heard from her husband that Monday last. She had also explained Amiridis had left their vacationing home in Nova Iguaçu, 40 kilometers north of Rio, alone in a rental car and no phone contact could be established since then.
But her statements became contradictory as time passed by. And when the burned car with a dead body "totally charred" inside on Thursday, her case began to crumble.
Moreira de Melo reportedly said he had a physical confrontation with Amiridis, whom he ended up killing with a gun which belonged to the diplomat. But the neighbors say they did not hear a shot that night, which leaves other leads to be investigated, such as a stabbing or the use of a silencer.
It would appear that de Souza Oliveira and Gomes Moreira, who had assisted Amiridis in security matters, planned the crime beforehand and asked for Moreira de Melo's help to dispose of the body, in exchange for US$ 24,000.
Amiridis seems to have been murdered in the house the couple owned in Nova Iguaçu, in the Baixada Fluminense, an area with high crime rates, where the woman had relatives.