Beijing's "airpocalypse" red alert for smog and yellow alert for fog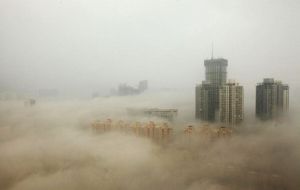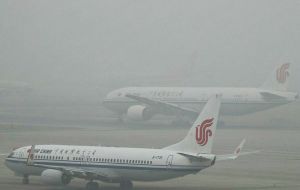 On Wednesday, Beijing was under a "red alert" for smog, the highest of four levels, and a "yellow alert" for fog. Other areas, particularly in northern China were still under red alert as of Wednesday for both fog and smog. The high pollution has been going on for a number of weeks, causing flight delays, and leading to traffic bans, as part of what is called "smog season" or "airpocalypse."
Colder temperatures means more coal is burned to heat homes, which exacerbates China's air pollution problem. Coal, and things like soot and dust, contain a particulate matter called PM 2.5. The particulates are tiny, which makes it easy for them to get stuck in the lungs, leading to conditions like asthma and chronic lung disease.
As of Wednesday, the concentration of PM 2.5 in Beijing was 186 ug/m3, seven times higher than what's considered healthy.
Large parts of north China were hit by hazardous smog in mid-December, leading authorities to order hundreds of factories to close and to restrict motorists to cut emissions. The latest round of air pollution began Friday and is expected to persist until Thursday, although it was supposed to begin easing on Monday.
In Beijing flights were canceled at the city's main airport, and all buses from there to neighboring cities suspended.
In Tianjin, Beijing's next-door metropolis, the smog was not as serious, but visibility was much worse, with more than 200 flights canceled at Tianjin airport and conditions not expected to improve in the near term, the city government said.
Some bus routes and highways in Tianjin were also closed because of the smog, the government added. In Shijiazhuang, the provincial capital of Hebei province that surrounds most of the Beijing, about two dozen flights were canceled and eight flights diverted to other airports because of the smog, the People's Daily said on its website.
A total of 24 Chinese cities have issued red alerts for the current round of pollution, which mandate measures like limiting car usage and closing factories, while 21 have issued orange alerts.
China began a "war on pollution" in 2014 amid concerns its heavy industrial past was tarnishing its global reputation and holding back its future development, but it has struggled to effectively tackle the problem.