"Celebrity Eclipse" will be returning to Argentina for the 2018/19 cruise season
Friday, January 6th 2017 - 10:45 UTC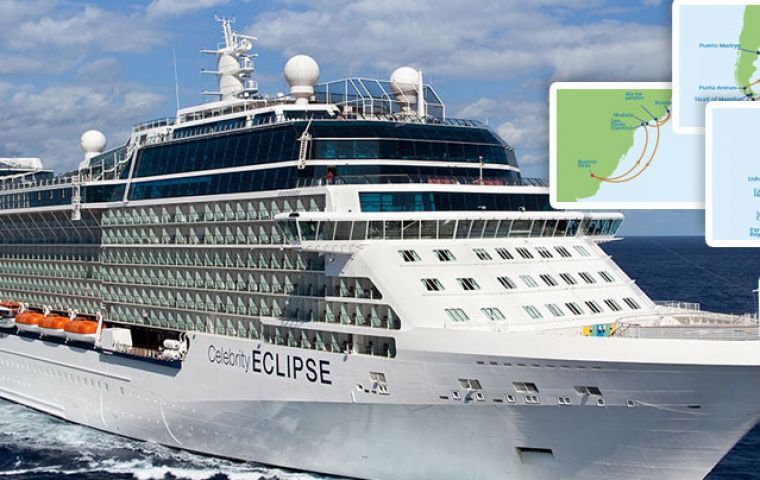 Celebrity Cruises will be returning to Argentina in the 2018/19 season, and in a big way, with the Solstice class vessels, the "Celebrity Eclipse", according to their local agents in Buenos Aires, Navijet S.A. "Celebrity Eclipse" is among the top twenty largest cruise vessels was launched in 2010, has a maximum capacity of 4.400 including passengers and crew members.
The 317 meters long vessel will be the largest cruise to make a full season calling in Buenos Aires, Puerto Madryn and Ushuaia, with a passenger turnover of 42.000, almost three times the current number. This in practical terms means that the season's four calls in Buenos Aires with the Infinity class will jump to seven with the Solstice class.
"Celebrity Cruise are making a big bet in Argentina and this was possible thanks to a coordinated effort from Buenos Aires port authority, the Transport ministry, Migration, Customs, Healthcare ministry and the Chubut and Tierra del Fuego provinces, plus the private sector and suppliers", pointed out Pablo Tsolis, Navijet Director, the cruise company representative in Argentina.
The announcement was made together with the opening of improved facilities for cruise passengers arriving at the Buenos Aires port terminal Quinquela Martín, which includes three-language indications, signs and literature (English, Portuguese and Spanish), a new bar, renovated restrooms and lounges, automatic cashiers and a money exchange booth.
But probably the most relevant is the ArBus service, which depends from the Transport ministry, and is available for all passengers wishing a ride to the main airports, the Puerto Madero area and other iconic tourist attractions in the Argentine capital. The mini buses charge cheap rates, are air conditioned, free wifi and offer good security. Office and staff will offer city maps with reliable information and tips of places to visit.
At the Quinquela Martin, tourists will be received by bilingual personnel from the City of Buenos Aires Tourism office, who will also provide maps and literature and unusual options such as Buenos Aires rowing; BA tours; BA bike tours; BA urban trekking; shopping tours, all of which and other options accessible through the app BA Turismo.
"Our compromise from the very first day was to boost the industry and improve service, and that is why our emphasis in improving conditions for tourists and cruise visitors in a joint effort with the private sector", said Gonzalo Mortola, responsible for the Ports Administration of Argentina.