Falklands: Argentine airlines not in the running for a second flight
Friday, January 6th 2017 - 08:10 UTC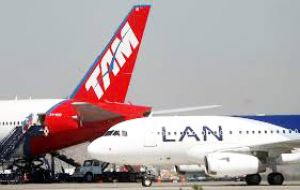 Only Brazilian or Chilean airlines need apply for a second flight to the Falkland Islands from South America it was indicated in a press briefing given in Stanley at the end of December, after MLAs returned from talks in London.
According to a report in the latest edition of Penguin News, MLAs Mike Summers and Phyl Rendell had attended meetings that week on South Atlantic issues, between the UK and Argentina, as part of the UK delegation lead by Sir Alan Duncan FCO Minister for Europe and the Americas.
Penguin News had previously reported that delegations viewed the dialogue as having been constructive. At the Stanley press briefing the 'deliverables' were outlined as: DNA identification of Argentine war dead: The project plan was agreed and there would be a reconnaissance visit in January with samples collected in July/ August.
Flights: The process was agreed and bids will be sought this month with a target date for October 2017
Fisheries data exchange: This has a target to start before the Illex season begins There would be no Argentine objections to a larger aircraft used from Punta Arenas.
It was noted that a midweek flight was required on a Wednesday with one stopover per month, each way, in Argentina. It would be the same as was currently undertaken in Rio Gallegos. It would be transit only with no immigration required.
MLAs noted that a stopover point had not yet been decided and that it was up to the airline to decide how and where to operate.
The Falkland Islands Government might support the arrangement for a couple of years, but it must be commercially viable said MLAs.
Asked about availability of bed space for more visitors MLA Summers said they needed to know what the offer was before evaluation and consultation.
It was emphasized that Latam (Saturday weekly flights) was comfortable with the arrangement because it enhanced their business rather than jeopardizing it. "We have and will keep, lots of links with Magallanes," said MLA Summers.
MLA Jan Cheek noted that a midweek flight would allow three or 10 day visits which were more flexible for business people or tourists, compared to the current arrangement.
It was suggested that if different airlines and routes competed on price it would be an advantage.
MLA Summers commented that the Falklands wished to expand business including tourism: "But we won't do that if it compromises our security or if we are disadvantaged."
MLA Gavin Short reiterated that there would only be one stopover commenting: "That's the only requirement we've agreed to and that is it."