Half the Argentine labor force make a monthly average of US$ 565, says Indec
Saturday, January 7th 2017 - 07:35 UTC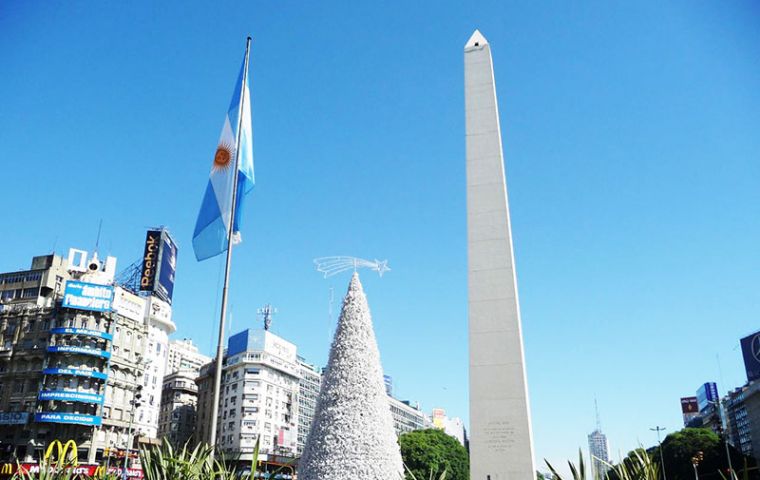 Half the Argentine labor force employed was making at the end of the third quarter a monthly average of 9.000 Pesos, equivalent approximately to US$ 565, while the poorest 10% averaged 2.500 Pesos (approx US$ 165) and the richest 10%, anywhere from 20.000 to 250.000 Pesos (US$ 1.250 to 15.000) a month, according the revamped Argentine stats and census office, Indec.
The figures belong to the latest "Functional income distribution" survey for July/September this year taking into account an economy contraction of 3.7%, unemployment rate of 8.5% and non registered unemployment of 7%.
When the stats include Homes, which means all incomes of a household, half of them make 15.700 Pesos a month on average (almost US$ 1.000), the 10% poorest, 5.828 Pesos (US$ 365) and the 10% better off from 41.000 to 280.000 Pesos (US$ 2.500 to US$ 18.000).
This means that the poorest 10% of Argentines under the Income distribution report and which includes over two million people, 7.6% of the population lives on 4.056 Pesos a month (US$ 256), while at the other end the average is 60.962 Pesos a month (US$ 3.800), which represents 11.5% of the survey or 3.1 million people.
In other words, 10% of the poorest Argentine households concentrate 1.9% of the overall national income while the 10% at the other end, 29.1%. The Indec survey also shows that at the end of the 2016 third quarter, some 10.8 million Argentines received no income.
Following the release of the survey president Mauricio Macri said that his government shed light and transparency on the level of inflation and poverty Argentina was suffering and this was "the commitment I promised on taking office. It's the only way of having rational relations with respect and admitting things as they are, and must be improved by an overall effort from the whole country".