Malcorra reiterates: Argentina willing to cooperative research in the South Atlantic
Saturday, January 14th 2017 - 08:37 UTC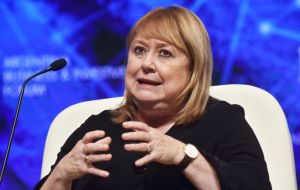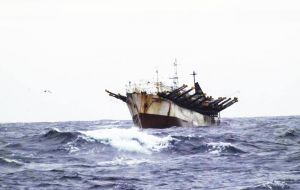 Foreign minister Susana Malcorra said fisheries licensing in the South Atlantic is of great concern for Argentina because of the "overall ongoing depredation", and recalled that there is an item referred to the issue in the September UK-Argentine joint statement, which has yet to be addressed and that most probably it will follow on the identification of unknown soldiers buried in the Falklands and the additional flights issues.
"We have not talked about it but we need an in depth discussion on the fisheries licensing, and its impact which is of great concern" said Malcorra from the Argentine Antarctica scientific base of Carlini which she visited on Friday, the first Argentine foreign minister to do so. However she did point out that ex minister Guido Di Tella had visited Antarctica but as part of the presidential delegation of then Carlos Menem.
"We feel there is an opportunity for a cooperative scientific research (in the South Atlantic) which could be a strong step forward in the correct direction so that all sides involved take the necessary measures to protect what for us belongs to us", insisted Malcorra in an exchange with the journalists that accompanied her in the Antarctic tour.
Asked about the British military presence in the South Atlantic, Malcorra said "it is something that does not contribute to generate that mutual trust which we are pretending to develop, it is something which has been mentioned before but it is also true that such things can't be changed overnight".
"We are going to try through confidence building to show that there is no need to militarize the South Atlantic. We haven't reached in depth level on that issue but at some point we will have to address it fully", added the Argentine minister.
Malcorra also talked about criticism from the Argentine congress regarding the Falklands/Malvinas agenda, particularly from the chair of the foreign affairs committee of the Lower House, Elisa Carrió.
"The foreign ministry is totally respectful of the role of Congress, which must ratify any accord with implications that need ratification. Congress will have to change some of the current laws, such as hydrocarbons, if that is the case and there is an agreement".
Ms Malcorra spent the day in Antarctica in a much anticipated and publicized trip which included flying in with an Air Force Hercules, a Zodiac and later with the Navy's ARA Islas Malvinas. The base chosen for the visit, Carlini, is managed by her ministry, it is a permanent year round base, one of thirteen Argentina has in Antarctica.
"This is a very special visit because of what Antarctica means for Argentina. The Antarctic treaty is a model of international cooperation, with an umbrella for any disputes or confrontations, something unusual for humanity. And Argentina is a pioneer, we've been in Antarctica over a hundred years", underlined Malcorra.
The minister went on to say that sovereignty can be defended in different ways: in Antarctica through research and Argentina must work on a long term plan, thirty, forty years, to keep advancing in strategic scientific research to ensure we remain pioneers.
The delegation included the head of Antarctica department at the ministry, Fernanda Millicay; the head of the Antarctic Institute Rodolfo Sanchez; head of Antarctic foreign policy Maximo Gowland; ministry of defense logistics secretary Walter Ceballos and the deputy governor of Tierra del Fuego Juan Carlos Arcano, among others.
The Carlini permanent base is headed by Dr Lucas Roberto, has some 60 standing residents in summer (including 20 scientists) and 22 in winter months. The science facilities are shared with colleagues from Germany, Mexico, Brazil and Netherlands.
Because of the changing weather conditions Malcorra was a few hours late in arriving and had to cut short her tour, but promised to return and said president Macri would also be visiting Antarctic bases.