Brazil confident in "recovery curve" coming from a very low level, says Meirelles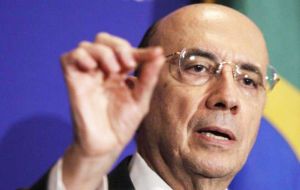 Brazil's Finance Minister Henrique Meirelles has admitted that the government is going to revise its official forecast for this year's GDP growth, but gave no details as to the extent of the change. In its latest forecast, the government had estimated the economy was going to grow 1% in 2017.
The minister gave the statement in an interview to Agencia Brasil journalists at the World Economic Forum, the same day the International Monetary Fund announced it had cut the 2017 GDP growth outlook for Brazil from 0.5% to 0.2%.
The IMF's new estimate is bleaker than the Brazilian financial institutions', which remained at 0,5% growth in the latest Focus Market Readout, a weekly Central Bank survey of market analyst projections.
"The IMF tends to be more conservative. The Brazilian market's got a little higher growth [outlook] at 0.5%, but what's really important here is the economic recovery curve that has been coming from a very low level," Meirelles said.
The official Finance Ministry projection for Brazil's GDP growth in 2017 is 1%, based on calculations that consider the whole year, not on a quarterly basis. The minister said the figure will be updated in the coming weeks, but avoided going into detail. "We don't know if it's going to be a downward revision," he said.
Despite the low growth forecast for this year, Meirelles said investors have been showing more interest in Brazil, especially after a 20-year government budget cap was passed and a pension reform proposal was announced.
"For the first time in years, Brazil is drawing interest from participants at the forum. We expect the population to feel the effects as the economy starts to pick up again over the year," he said.