Falklands has new Deputy Governor; ex administrator of Tristan da Cunha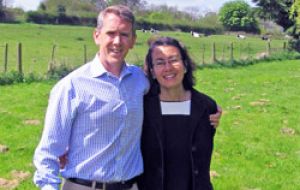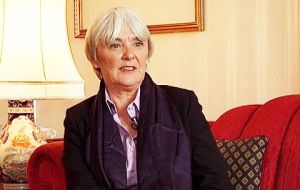 The new Deputy Governor has arrived in the Falkland Islands. Alex Mitham has had a week's handover with his predecessor, Sandra Tyler-Haywood, who leaves the Islands this weekend. Mr. Mitham who is on secondment to the Foreign and Commonwealth is no stranger to Overseas Territories; in effect he is coming to the Islands after three years as Administrator on Tristan da Cunha.
Prior to joining the Civil Service he was an architect working on projects (largely agricultural-based) to regenerate areas into new business centres to improve economic growth and stability. He also has a farming background, being a fifth generation farmer and would one day like to return to this vocation.
He is accompanied by his wife Hasene who is originally from Turkey; she has a PhD in International Relations and has, in the past, taught at university and worked as an intern at the UN in Washington.
Mr. and Mrs. Mitham are both keen walkers, like the outdoors life, and are interested in conservation.
Mr. Mitham said, "It is a privilege to be able to take on the Deputy Governor role. Hasene and I are both very much looking forward to living and working in the Islands and being active members of the community".
His predecessor Sandra Tyler- Haywood's four years in the Falklands have been the final posting for her. She is retiring from the Foreign Office.
She said, "I have really enjoyed my time in the Falkland Islands and will miss much about life in the Islands, especially the people. I can't think of a better final posting."