British experts guest speakers in Chile's sixth version of the Futures Congress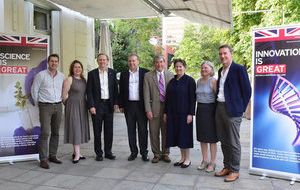 Seven prominent British figures representing different areas of science, including economics and social communications, were present at the Futures Congress organized by the Chilean Senate in Santiago. Gathering each year experts from different areas of knowledge to discuss the challenges that human kind will be facing in the future, this event has become the most important scientific conference in Latin America.
With participation from over 80 speakers, members of the British delegation shared experiences in key areas of scientific equipment.
The group of experts was composed of Jack Szostak, Nobel Prize Winner in Medicine; Sir Philip Campbell, Astrophysicist and Editor-in-Chief of the scientific journal, Nature; Lord Jim O'Neill, Chair of the Review on Antimicrobial Resistance; Iain Stewart, Geologist and Presenter of several BBC Science Programmes; Paul Davies, Doctorate in Physics; Judith Sixsmith, Doctorate in Psychology; and John Mulholland, Editor of the British newspaper The Observer and Assistant Editor of the Guardian News.
A cross-cut initiative promoted by the Future Challenges Commission of the Chilean Senate, the Chilean Academy of Science and the Chilean Government, the Futures Congress was created in 2011 to mark the Bicentenary of the Chilean Congress. This is an opportunity to carry out collaborative work where knowledge and science become democratized and are linked to daily life. The purpose of the Congress is for Chile to become a meeting place for ideas where the big challenges facing society today and in the future are known and discussed.
Over 25,000 people attended the Congress in Santiago and 6,000 participated in regional smaller conferences, with another 1.5 million viewers that followed the live stream broadcast through the Internet.
The presence of British experts at the Futures Congress was possible thanks to the funding of the GREAT Challenge Fund, the global British Government's initiative to support activities aimed at showing the best that the UK has to offer to the world.