Clashes, traffic blockades and smashed windows by anti Trump protestors
Saturday, January 21st 2017 - 00:13 UTC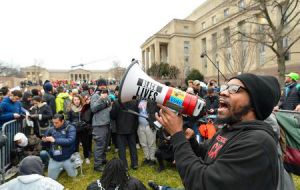 Black-clad activists smashed store windows and blocked traffic in Washington during US President Donald Trump's inauguration on Friday, and fought with police in riot gear who responded with tear gas and stun grenades. About 500 people, some wearing masks, marched through the city's downtown, using hammers to claw up chunks of pavement to smash the windows of a Bank of America branch and a McDonald's outlet, all symbols of the American capitalist system.
The various protest groups scattered around the city chanted anti-Trump slogans and carried signs with slogans including "Make Racists Afraid Again," a play on the New York businessman-turned-politician's "Make America Great Again" campaign slogan.
The clashes started about 90 minutes before Mr. Trump was sworn in 2.4 kilometers away. Police detained dozens of people and said they had charged an unspecified number of people with rioting. Some news agencies reported that 90 people had been arrested.
The group of detainees became a flash point after Mr. Trump was sworn in, when a crowd of several hundred that had formed to call for their release turned violent, with some throwing bottles and rocks at police, who responded with tear gas and stun grenades.
Two police officers sustained minor injuries from people who were trying to avoid arrest, police said.
Not far from the White House, protesters scuffled with police, at one point throwing aluminum chairs at an outdoor café. Bob Hrifko, a member of the Bikers for Trump group in town to celebrate the inauguration, was struck in the face when he tried to intervene.
The crowds did, however, slow crowds from entering onto the Mall and, in one spot, stopped them completely.