Trump pledges "America First" and "transferring power from Washington back to the people"
Saturday, January 21st 2017 - 00:00 UTC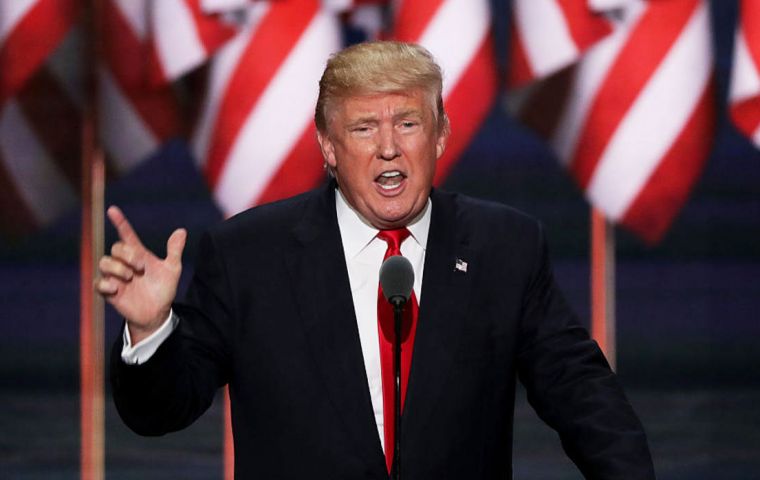 Donald J. Trump was sworn in as the 45th president of the United States on Friday, outlining his forceful vision of a national populism echoing the same "America first" catchphrases that swept him to victory last November. In his first address as chief executive, Trump pledged that his inauguration will mark a moment in history when "the forgotten men and women of our country will be forgotten no longer."
Trump, whose campaign for the job was marked by bitter partisan division and deep skepticism from his critics, told the thousands assembled in Washington D.C. that agenda was one for all Americans even as protesters demonstrated against him in the streets of the nation's capital, protests that escalated into clashes with police in the hours after the ceremony.
"Today's ceremony has very special meaning because today we are not merely transferring power from one president to another or from party to another," he said in his speech, surrounded by the very members of Congress and current and former political leaders he was admonishing. "We are transferring power from Washington D.C. and giving it back to you, the people."
"For too long, a small group in our nation's capital has reaped the rewards of government while the people have borne the cost," Trump said. "That all changes - starting right here, and right now, because this moment is your moment, it belongs to you."
Promising to protect America's borders and its economy from "the ravages of other countries," Trump's message focused on American identity at a time of increasing globalization, pledging to bring back lost jobs and to "rebuild our country with American hands and American labor."
"From this day forward a new vision will govern our land," he said. "From this day forward, it's going to be only 'America First.'"
"Every decision on trade, on taxes, on immigration, on foreign affairs, will be made to benefit American workers and American families"
The new president painted a picture of an American middle class that has been plagued by poverty, drug abuse and unemployment, promising a new dawn of prosperity.
"This American carnage stops right here and stops right now," he said
A president whose coalition included only a sliver of America's racial minorities, Trump made a call for unity under one American flag and national identity.
"Whether we are black or brown or white, we all bleed the same red blood of patriots," he said. And he added: "When you open your heart to patriotism, there is no room for prejudice."
And Trump did not shy away from catchphrases that he deployed during his campaign, saying that "America will start winning again" and promising to "Make America Great Again."
Trump will enter office with the lowest approval rating for an incoming president in the history of the NBC News/ Wall Street Journal poll, with only 44% approving of his handling of the presidential transition compared to 52% disapproving. Still, more Americans express hope that the state of the country will improve in the next five years than those who say the nation will go into decline.
And the man Trump will replace is exiting the White House on a high note, matching the high marks he received in the first months after taking office in 2009.
Thousands of protesters have also swarmed nation's capital for the festivities. They clashed with police throughout the city but had little impact on the inauguration ceremony. Hundreds of thousands are expected to attend the Women's March on Washington on Saturday.