Temer has the delicate task of naming a successor of Justice Zavascki
Monday, January 23rd 2017 - 19:01 UTC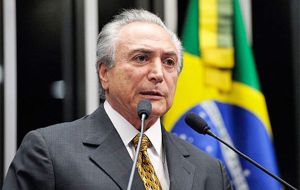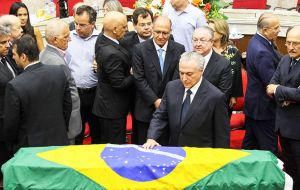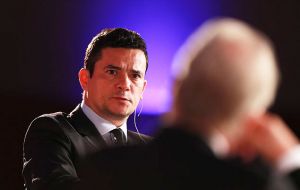 Brazil's president Michel Temer said that he would wait to name a replacement for the Supreme Court justice who died in a plane crash until after the court reassigns a major corruption case he was handling.
Justice Teori Zavascki was in charge of handling accusations against politicians in the "Car Wash" investigation, a multibillion dollar kickback scheme involving the state oil company Petrobras. He was in the process of deciding whether to validate several plea bargain agreements, potentially making public accusations against high-profile businessmen and politicians.
His death last Thursday raised questions about who would take over this critical work. President Michel Temer nominates judges to the Supreme Court, and typically a new justice would take over the caseload of the one he replaces. The court can also decide to reassign the caseload to a sitting justice.
Many Brazilians have said in recent days it would be unseemly for Temer to name the next rapporteur to the case because he himself might be implicated in the plea bargains, Temer has denied any wrongdoing in the "Car Wash" case.
While paying his respects at Zavascki's memorial in the southern city of Porto Alegre, Temer appeared to offer a solution to the potential conflict of interest.
When a reporter asked when he would nominate a new justice, Temer replied: "Only after a rapporteur has been named."
Other Brazilian dignitaries, along with family and friends, were also paying their respects, including Judge Sergio Moro, who is leading the "Car Wash" investigation. With his voice cracking, he told reporters that he came to show his appreciation for the "quality, relevance and importance of the services (Zavascki) rendered."
Federal police and the public prosecutor's office are investigating the small plane's crash in heavy rain off the coast of Rio de Janeiro state. The G1 news portal reported that authorities have determined that Zavascki died from "multiple traumas."
The aircraft was still floating Saturday in the waters off the colonial town of Paraty, and divers and others were working to remove it.