Falklands/Malvinas negotiations have no third leg, "they are bilateral, Argentina and UK"
Tuesday, January 24th 2017 - 11:52 UTC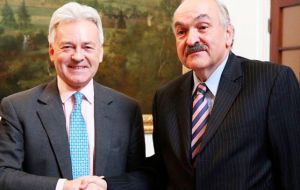 Argentina's Lower House Foreign Affairs committee formally constituted the All parties Parliamentary Observatory on the Malvinas Question, claiming congressional participation in all bilateral agreements with the UK referred to Falklands/Malvinas resources and underlining that there is no such thing as a third leg, Falklands residents in negotiations with the UK.
The Parliamentary Observatory on the Malvinas question is made up of representatives from the different parties in the Lower House plus academics and experts on the issue. The formal inauguration included the attendance of deputy foreign minister Pedro Villagra Delgado.
The president of the Observatory is lawmaker Lilita Carrio, a close ally of president Mauricio Macri and chairperson of the Lower House foreign affairs committee.
"I rescue the parliamentary diplomacy claim particularly in something as important as Argentine sovereignty over the Malvinas Islands. The role of congress can't be left aside in issues referred to the exploitation of fisheries and hydrocarbons", said lawmaker Alejandro Echegaray, who belongs to the ruling coalition of president Macri.
Regarding the participation of Falkland Islanders in negotiations, Echegaray was emphatic, "the attendance of Islanders in the negotiation rounds does not mean a third leg to the table: they simply belong to the British representation, which is the second leg of the table, while the first is Argentina".
Lawmaker Echegaray also praised the commitment with the truth regarding the identification of the unknown Argentine soldiers from the 1982 war buried at Darwin cemetery, "it is a positive continuation from the previous government and from the current government in the search of the truth".
Finally Echegaray thanked the presence of deputy foreign minister who underlined that "with Villagra Delgado we have the possibility of an interlocutor in these policies. I know of his professional career which is far from any sell out attitude".
The fact that the Islanders were included in the British representation, particularly regarding the Red Cross mission to help identify the remains in Darwin cemetery and the additional flights from the Falklands to the continent, allegedly was an issue which attracted much debate.