Falklands/Malvinas: regional summit to renew request for UN Secretary General good offices in the dispute
Thursday, January 26th 2017 - 19:31 UTC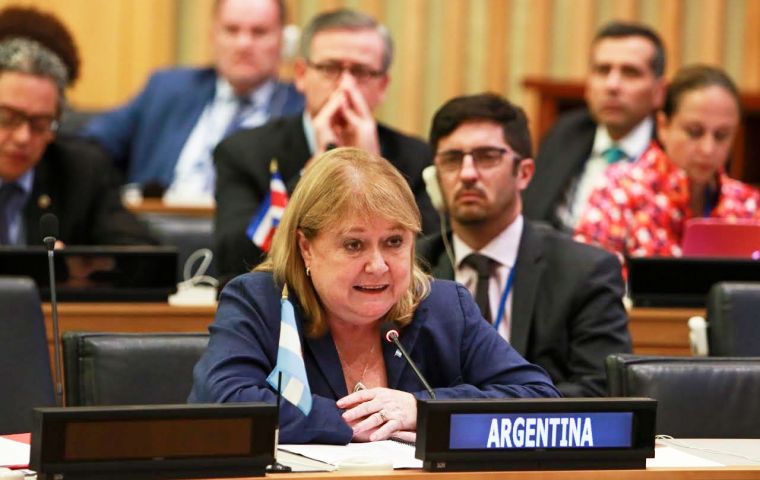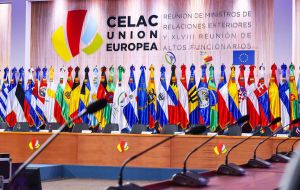 Leaders from the Community of Latin American and Caribbean States, CELAC, expressed full support for Argentina's legitimate rights over the South Atlantic islands (Falklands, South Georgia and South Sandwich) and anticipated they will be requesting the UN Secretary General to renew his good offices for the resumption of negotiations between Argentina and UK to reach a peaceful solution to the dispute.
Meeting in Santo Domingo, the Argentine foreign minister Susana Malcorra thanked the Celac summit once again for the support to Argentina's rights over the Malvinas islands, "thanks to all of you and the work we put forward together to keep this issue and others in the limelight"
In a world with great contradiction and uncertainties, "Celac is an opportunity, an organization which homes a space of members that share the largest territory in peace of our planet, we are convinced and work to build coincidences, united in our differences, doing it better every day", said Malcorra before representatives from the 33 member countries.
Finally Malcorra invited all attendants to the Celac European Union to be held later this year in Buenos Aires.
The meeting this week in the posh resort of Punta Cana for the fifth Celac summit reiterated the organization's "most firm support to the legitimate rights of Argentina in the sovereign dispute over the Malvinas, South Georgia and South Sandwich islands and surrounding maritime spaces, and the standing interest of the region's countries that Argentina and UK resume negotiations to find, in the shortest time possible, a peaceful and definitive solution to the dispute in conformity with UN Assembly resolution 2065, as well as declarations from OAS, the Group of Rio and the Latin American and Caribbean summit (CALC), particularly the Unity Summit, celebrated at the Riviera Maya in Mexico, on 23 February 2010, which belongs to Celac history's best background"
"In this framework the Heads of State and Government from Celac commission the pro tempore presidency to request UN Secretary General to renew efforts in compliance of the good offices which was commissioned by the General Assembly through successive resolutions, for the resumption of negotiations to find in the shortest time possible, a peaceful solution to the referred dispute and report on the advances in the compliance with its mission".
Likewise they reiterate the importance of observing UN General Assembly resolution 31/49, which calls on both sides to abstain from adopting decisions that entail the introduction of unilateral modifications of the situation, while the Malvinas, South Georgia and South Sandwich, and surrounding maritime spaces are going through the process recommended by the General Assembly.
Finally the declaration underline the full willingness of the Argentine government to generate mechanisms to resume the dialogue that will allow to find a definitive solution to the sovereignty dispute.