Plane that crashed killing Brazil's top Justice did not suffer "obvious mechanical failure"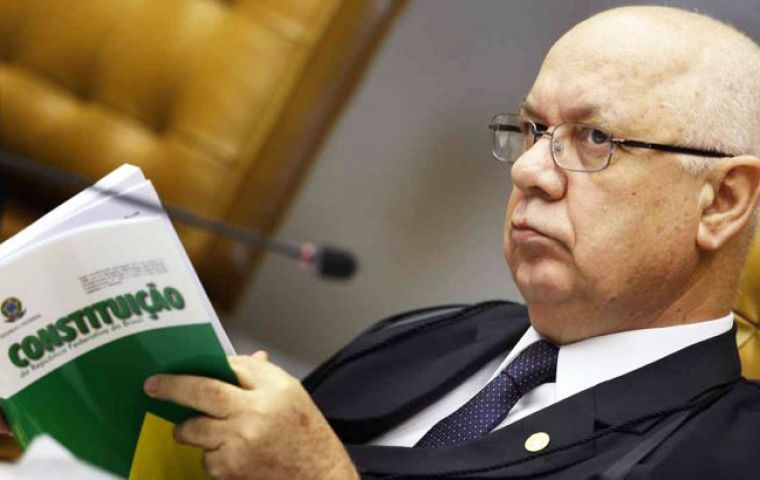 The small plane carrying a Brazilian Supreme Court justice overseeing a political bribery investigation did not suffer any obvious mechanical failure when it crashed into a bay amid heavy rain and killed all five on board, investigators said this week.
That preliminary analysis came from what investigators heard on the final 30 minutes of audio captured by the plane's cockpit voice recorder. The Brazilian Air Force, which is in charge of the investigation, said much more work was required before reaching a final conclusion.
The death last Thursday of Justice Teori Zavascki, 68, sparked widespread suspicion in Brazil because he was expected to approve a massive trove of new testimony in the kickback scandal within weeks.
That testimony was gathered from 77 executives of the engineering conglomerate Odebrecht, at the center of the probe into bribes for contracts at state-run oil company Petrobras and other government-controlled businesses.
The new evidence could implicate upward of 200 powerful politicians and associates.
It will expand an already massive investigation that has seen 81 convicted of corruption, uncovered US$2 billion in bribes and has led to popular former President Lula da Silva facing five trials in connection with the case.
Under Brazilian law, investigations into sitting federal lawmakers and several members of the executive branch must be approved by the Supreme Court and only the top court can try their cases.
Temer has said he will not nominate a new justice to take Zavascki's place until the court decides how it will proceed with the so-called Car Wash investigation, which has been delayed - and some fear damaged - by the justice's death.
Brazil's top prosecutor Rodrigo Janot formally requested on Tuesday that the Supreme Court handle the Odebrecht testimony with "urgency." The court's Chief Justice Carmen Lucia instructed Zavascki's legal aides to keep working on the case.
The chief justice is not expected to decide who will take over the case until early next month, but it appears likely the Justice that will be placed in charge will be chosen at random.
The plane carrying Zavascki plunged into the ocean just three km from a landing strip in the tourist town of Paraty in Rio de Janeiro. Also killed were Zavascki's long-time friend, Alberto Filgueiras, 69, a boutique hotelier who owned the plane, along with his personal massage therapist, the young woman's mother and the pilot.