Spain will not put Gibraltar at the centre of Brexit negotiations
Friday, January 27th 2017 - 10:59 UTC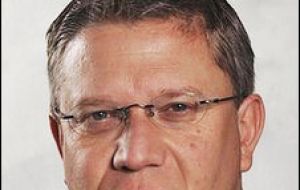 Spain will not put Gibraltar at the centre of Brexit negotiations, the country's Foreign Minister, Alfonso Dastis Quecedo, said in an interview with the Financial Times. Dastis Quecedo told the newspaper that the EU should start trade talks with Britain relatively soon and had no plan to impose a "punitive" Brexit deal that would weaken London as a financial centre.
The Spanish minister played down fears that Spain's sovereignty aspirations over Gibraltar could become a serious stumbling block for the negotiations. "My personal opinion is that we won't put Gibraltar at the centre of negotiations," he told the FT.
"The situation is actually very clear and there is nothing for us to ask for: The UK leaves the EU and Gibraltar leaves the EU."
"If Gibraltar wants to make a life outside the EU, they are perfectly free to do so."
Dastis Quecedo also voiced support for a transitional agreement to avoid a disorderly UK withdrawal from the EU, the newspaper reported.
However Conservative MP Andrew Rosindell said the UK must "slam the door" on Spain's hope to further its sovereignty aspirations over Gibraltar on the back of Brexit
MP Rosindell, a longstanding champion of Gibraltar's right to self-determination, said the UK must make clear "without room for doubt" that Gibraltar will always remain British "as determined by the Gibraltarian people".
"It is the inhabitants of the Rock who must decide the destiny of their homeland and nobody else," he said.
MP Rosindell, who campaigned for Leave in the EU referendum, was writing on the pro-Brexit website BrexitCentral in an opinion piece on Gibraltar headlined "The UK must embrace Gibraltar more closely and not allow it to be a dispensable pawn in the Brexit talks".
In the article, the Tory MP set out Gibraltar's history and recent developments in relations with Spain, highlighting the Rock's 96% vote for Remain and its concerns about the impact of Brexit, in particular at the border.