Brazil's ex richest man jailed on return from US; he is linked to the Petrobras scandal
Tuesday, January 31st 2017 - 12:07 UTC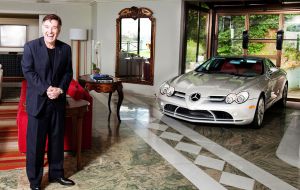 Former Brazilian billionaire Eike Batista on Monday turned himself in to police in Rio de Janeiro on Monday on charges related to the Petrobras corruption scandal. He was detained shortly after arriving from New York.
Authorities shaved Batista's head and jailed him in the Gericinó Penitentiary Complex's Bangu 9 unit. Batista's lawyers have urged judicial authorities to move Batista away from the general prison population out of fear for his safety, Folha reported.
"It is well known that the defendant is an entrepreneur, with a notable visibility in the country. Imprisonment in this way, in a penal establishment together with several people with knowledge of his then-social and financial life, puts his physical integrity at risk and makes the threat to his life imminent," Batista's defense team urged a court.
Brazilian law mandates that people who are jailed have the right to be separated into a solitary cell if their lives are threatened.
Brazilian Federal Police attempted to arrest Batista at his home in an upscale Rio de Janeiro neighborhood last Thursday, but Batista's lawyers said the former billionaire was traveling.
Police said Batista and the other suspects -- identified as "large business owners" -- are accused of laundering about US$100 million, most of which has already been repatriated to Brazil. The suspects are accused of active corruption, passive corruption, criminal organization and money laundering.
Batista's US$35 billion fortune plummeted after Brazil's economy crashed starting in 2014, which led to the collapse of his Grupo EBX conglomerate.
Dozens of Brazilian business leaders and politicians have been indicted for corruption, money laundering and racketeering over the scandal in Petrobras, a semi-public oil and gas company. Politicians are accused of accepting bribes -- either personal bribes or bribes distributed to their political party -- in exchange for lucrative government contracts.
In 2015, the Brazilian economy was nearly 5% smaller than it was the previous year. The Petrobras scandal is partly to blame because it led to decreases in foreign investment.