Argentine night air patrolling reveals "city of floating lights" in the South Atlantic
Thursday, February 2nd 2017 - 17:28 UTC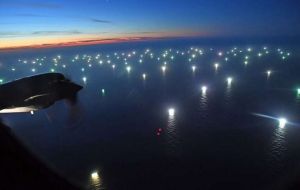 A floating "city" of lights belonging to hundreds of jiggers, "mostly Asians", operating in the grey fringes of the South Atlantic Argentine Economic Exclusive Zone, EEZ, at the 200 miles borderline have been filmed and monitored night after night by Argentine navy patrol aircraft, reports the Patagonia media.
Journalists from different media were invited by the navy for a night cruise on a P-3 Orion over the zone, taking off from the naval station in Trelew, Chubut province, and patrolling the area extending from Puerto Madryn to Comodoro Rivadavia.
Basically using an Automatic Information System, AIS, the patrol tries to have access to the different vessels' information, but at the same time with the radar catches the position of all those operating in the area: the numerical difference between the two, gives an idea of how many might try to go undetected and might try poaching into Argentina's EEZ, according to the patrol officers.
In effect in some "lights" concentration points, half the vessels had their AIS identification off, "we try to have them identify but they might not do so", admit the Argentine officers.
Most vessels are jiggers with their powerful lights attracting squid but there are also trawlers going after hake. However Argentine navy and coast guard officers admits it's a titanic challenge since with very few resources, "we have to patrol an area of almost 6.5 million square kilometers".
The reports also mention conditions on board the Asian jiggers, mainly those from China, which it is claimed do not comply with any environmental, labor or security measures as demanded internationally.
"Nobody in Argentina would work under those slavery conditions, virtually human trafficking in the Asian jiggers", said Pablo Sahagun, Fisheries deputy secretary of the Chubut province and who was also invited to the night cruise.
Sahagun added that according to FAO surveys from 2010, in the South Atlantic, the area identified as the Argentine Sea, catches reached 1.8 million tons, of which Argentina reported, 784.000 tons, "meaning that the 300 plus vessels operating in the area, legal and illegally, the city of lights, extracted a million tons".