Malvinas sovereignty: UK officials and Parliament members were willing to listen to Argentina's claim
Tuesday, February 7th 2017 - 07:02 UTC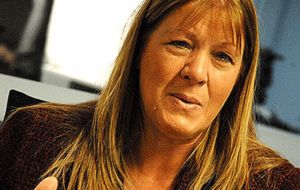 British officials and members of Parliament were "more understanding and willing to listen to Argentina's claim over the Malvinas Islands" according to congress member Margarita Stolbizer who recently visited London and Scotland as part of a delegation of Argentine lawmakers.
"The attitude of UK officials and members of parliament towards arguments in support of our Malvinas sovereignty claim was of understanding, willingness to listen in a frank, open, less formal and more warm spirit", said Ms Stolbizer head of the Parliamentary Argentina/UK Friendship Group and a close ally of president Mauricio Macri although she heads a small urban party critical of the Argentine heavyweight groupings of the country.
The delegation which was invited to UK by the British chapter of the Inter Parliamentary Union spent most of last week in London and Scotland meeting officials, members of Westminster and the Scottish parliament as well as business representatives. The delegation included three Senators, including the speaker of the Upper House, Federico Pinedo and three Deputies, plus the Argentine ambassador in London Carlos Sersale di Cerisano and his counterpart in Buenos Aires, Mark Kent.
"In all the meetings with officials and members of Parliament we brought up the Argentine position, our principles and our sovereignty claim over Malvinas and we found they listened and understood our position", added the Argentine lawmaker. After all "we came to the UK not to give in our flag or position but rather to look for opportunities and understanding"
Further on Stolbizer said that the UK officials were insistent with the so called "positive agenda" and confidence building, which "we have accepted hoping that at some point the UK will agree to discuss the Malvinas question", but admitted she was also surprised at the importance that the British gave to combating corruption.
"I believe this is so for two goods reasons: the issue is a priority in the UK global agenda and secondly, and here I am supposing, that is how we have been perceived for many years", she added. "They were very insistent is knowing what we are doing with corruption practices, bribery and graft. I asked how it worked out in the UK and how they prevented this scourge".
Stolbizer said that under the Kirchner administrations it was not isolated corruption, but rather a well network of business people made up of friends and relatives that monopolized most government contracts, "full scale corruption".
However the lawmaker admitted that Argentina has advanced in curtailing some aspects of these practices, but is still missing since there is no specific questioning as to the origin of much of the accumulated funds and assets held by relatives and straw-people and offshore accounts, where the money illegally acquired can still be hidden.
"I'm not making any formal accusation but several of Macri's ministers and aides were CEOs of companies benefitted with government contracts, and there is no protocol referred to those situations", explained Stolbizer who nevertheless admitted that despite some differences with the Macri administration, "we are far better off than before because among other issues there is an equilibrium of political forces and that is a good way of keeping control of excesses".