Macri and Temer agree to open Mercosur and to closer ties with Mexico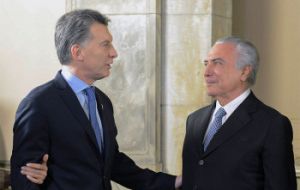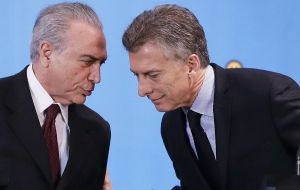 The leaders of Brazil and Argentina said on Tuesday they would pursue closer ties with Mexico and other Latin American nations alarmed by U.S. President Donald Trump's promises to tear apart trade deals and build a wall in the Mexican border to protect American jobs.
In a state visit to Brasilia, Argentina President Mauricio Macri said that Mercosur would focus on strengthening its relationship with Mexico, Latin America's second-largest economy after Brazil.
Trump has abandoned the Trans-Pacific Partnership deal that aimed to bolster trade between 12 Pacific Rim nations, including Mexico, Chile and Peru.
In his campaign to keep manufacturing jobs in the United States, Trump has also threatened to slap higher taxes on U.S. companies opening new plants abroad and promised to rework the North American Free Trade Agreement with Canada and Mexico.
Tensions are running particularly high with Mexico after Trump ordered the construction of a wall along its 3,200-km border with the United States to stop illegal immigration.
Those moves were hailed by Macri, who came to power in 2015 on a business-friendly program, and his Brazilian counterpart Michel Temer as an opportunity to deepen trade ties within Latin America, long overshadowed by Washington's economic might.
"This change in scenario will make Mexico turn to the South with more conviction," Macri said in a statement, after inking a series of small deals with Temer, a centrist who assumed the presidency last year after the impeachment of Dilma Rousseff.
Temer called for also building ties with the Alianza del Pacifico, a trade bloc including Chile, Colombia, Mexico and Peru. "We discussed the ever greater integration of Latin America, especially of South America and Mexico," Temer said after his talks.
Macri said he spoke with Mexican President Enrique Pena Nieto on Monday to discuss deepening cooperation between Mexico and Mercosur and wished him good luck in his dealings with the United States.
Both Macri and Temer are seeking to open their countries - for decades considered among the most closed economies in the Western Hemisphere - in an effort to revive activity after years of recession.
Some local trade experts say a potential rift between the United States and Mexico could open up space for Latin American nations.
"Mexico represents a great opportunity for Brazil and the region," said Welber Barral, the former international trade secretary for Brazil from 2007 to 2011. "Mexico is a huge importer of agricultural products and its car industry could complement that of Brazil."
Since 2015, Brazil, a major exporter of corn and soy, has been in bilateral negotiations with Mexico to increase commercial ties under a regional trade agreement.
The trade flow between Latin America's biggest economies has dropped nearly 10% between 2012 and 2016 to US$7.3 billion, roughly the size of commerce between Brazil and the much-smaller Chile.
Both Macri and Temer also hope that the Mercosur can take advantage of the apparent change in the U.S. trade posture to close a free trade deal with the European Union in talks that have dragged on for more than a decade.
Tensions over market access, however, continue to dog the regional trade bloc. Although Buenos Aires is willing to discuss the entry of Brazilian sugar into its market, its move to increase tax benefits to local auto parts manufacturers has infuriated Brazilian rivals.
In an interview with Brazilian newspapers published on Tuesday, Macri complained about his country's US$4.3 billion trade deficit with Brazil.