Appeals Court rejects Trump's reinstatement of travel ban
Friday, February 10th 2017 - 10:24 UTC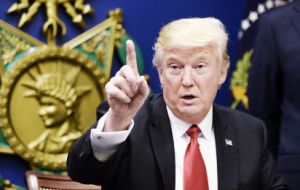 US appeals court has rejected President Donald Trump's attempt to reinstate his ban on visitors from seven mainly Muslim countries. The 9th US Circuit Court of Appeals said it would not block a lower-court ruling that halted the order.
Mr. Trump responded with an angry tweet saying national security was at risk and there would be a legal challenge. But in a unanimous ruling, the court said the government had not proved the terror threat justified the ban.
"The government has pointed to no evidence that any alien from any of the countries named in the Order has perpetrated a terrorist attack in the United States," it said. It also rejected the argument that the president had sole discretion to set immigration policy.
"Rather than present evidence to explain the need for the executive order, the government has taken the position that we must not review its decision at all," said the ruling. "We disagree, as explained above.''
President Trump responded to the ruling by tweeting his dissent, and then gave an audio statement saying it was a political decision.
The Justice Department, which made representations to the appeals court on behalf of the White House, said in a statement it was "reviewing the decision and considering its options".
The executive order, at the end of his first week in office, sparked protests and confusion as people were stopped at US borders.
Lawyers representing the US government had argued that the ban was a "lawful exercise" of presidential authority. But two US states, Washington and Minnesota, said the ban was unconstitutional and discriminated against Muslims. The case is now likely to end up at the highest court, the US Supreme Court.