Falklands lawmaker meets PM May; OTs Brexit discussions in London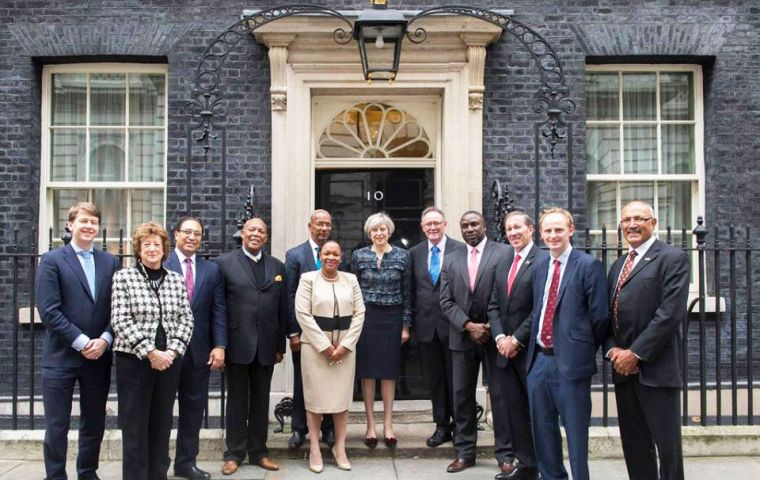 Falkland Islands Member of the Legislative Assembly, Michael Poole has had a busy week in London which included a visit to Number 10 Downing Street where he met Prime Minister Theresa May.
The week began with meetings with Overseas Territories Leaders on Brexit and the collective approach and coordination on the issue.
"This was a productive discussion chaired by the Premier of Bermuda who was recently elected Chair of the UK Overseas Territories Association," MLA Poole told Penguin News.
Tuesday was a full day meeting of the Joint Ministerial Council on EU Exit which was chaired by Baroness Anelay from the FCO and Minister Robin Walker from the Department for Exiting the EU.
"The day allowed us to cover issues of joint interest such as continued market access, EU funding streams, immigration and wider international trade," MLA Poole, adding that it was a productive day and the process of consultation with OTs continues, "however much of the detail is still uncertain."
On Wednesday he and the Falkland Islands Government London Representative Sukey Cameron briefed MPs in the Falklands All Party Parliamentary Group and other forums and met with Sir Alan Duncan for an update.
"Along with representatives from other Territories, I have also had the pleasure of meeting the Prime Minister. We met with her briefly at Number 10 and she reiterated her Government's commitment to engage with the Territories throughout the Brexit process," said MLA Poole. (Penguin News).