Falkland Islanders must be recognized, says UK ambassador in Argentina
Monday, February 13th 2017 - 09:39 UTC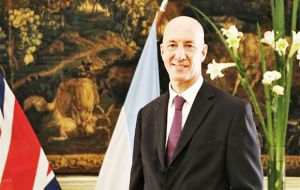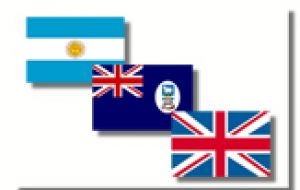 UK is interested in strengthening bilateral relations with Argentina, building confidence, dialogue, leaving aside sanctions and conflicts, and when it comes to the Falklands/Malvinas and sovereignty, "we must recognize Islanders, their wishes, their lives", indicated British ambassador in Buenos Aires Mark Kent in an interview with Martin Dinatale, political and diplomatic analyst from La Nacion.
"Sanctions, conflicts, restrictions lead nowhere. We must advance in a relation that removes sanctions, I'm convinced that the only way is dialogue and I perceive a good will from the government", said ambassador Kent who emphasized that "we have seen many changes in Argentina: rule of the law; legal certainty, transparency and a decisive combat on corruption, we are going to have a more open relation with Argentina", and UK companies will come to invest in Argentina.
Likewise we can work together on a lot of bilateral issues, leaving the Falklands/Malvinas sovereignty issue to one side, "because when we talk of the future of the Islands, we must recognize the Islanders, their wishes, their lives".
Ambassador Kent was interviewed on his return from the UK with a delegation of Argentine lawmakers invited to London to meet their Westminster peers, British officials and later Scotland.
"It was a very positive trip for both sides, the parliamentary exchange was significant, each side displayed their positions regarding the Islands' sovereignty and we perceived a willingness from Argentina to have closer links with the UK. We have much to do in trade, science and technology and internationally we support Argentina in the WTO, hosting the G20 and its request to become a member of OECD; it is an important agenda, and in this context lawmakers were able to meet all the actors in UK", replied ambassador Kent.
Dinatale wanted to know if the trip and exchange meant a door had opened for a more in depth discussion on the Malvinas or an advance from the September statement, but ambassador Kent was cautious, "there are many bilateral issues to address. There's much work pending". Anyhow the Red Cross mission to help identify unknown Argentine soldiers in Darwin as well as a greater inclusion between the continent and the Islands with additional flights, are positive examples.
When ambassador Kent was asked if he believed Argentina would lift sanctions on oil companies exploring in the South Atlantic, Ambassador Kent said confidence building and a closer friendly relation are needed, "and we are advancing step by step"
Likewise in reference to UK sanctions on military equipment supplies, "we must leave aside sanctions, look for a better relation since both countries have a relevant role in the world and we are key partners".
As to Brexit, Ambassador Kent said the UK was intent in increasing trade with Argentina, and in March a delegation from the Argentine/British commerce chamber will be visiting UK. Besides UK is interested in reaching a trade agreement with Mercosur in the future, "and we are not going close to the world with Brexit; we are looking for new partners with whom we share democracy and combating corruption, which are common values with Argentina".
Dinatale insisted in knowing whether the new attitude could also mean a reduction of the British military presence in the Falklands.
"It would be hypothetical at this point. We're on our way to dialogue and in the process of strengthening links. I do not like to speculate on what is going to happen or not. We're working strongly with Argentina on dialogue which is what most interests us now, which is confidence building. We need to strengthen relations between all involved. And then talking of the Islands is not only farms, penguins or sheep. People live there and any future must recognize the Islanders, their wishes, their lives. They have a very important role to play in all this, we need to involve more and more the Islanders".
And would a meeting between president Macri and PM Theresa May help to build confidence?
The visit of Alan Duncan and the coming presence in Argentina of UK trade minister have been very useful. "There will be further links during the rest of the year, and this could help to prepare for a meeting between Macri and May".