Temer refuses to lose another advisor whose nomination was barred by a judge
Tuesday, February 14th 2017 - 10:50 UTC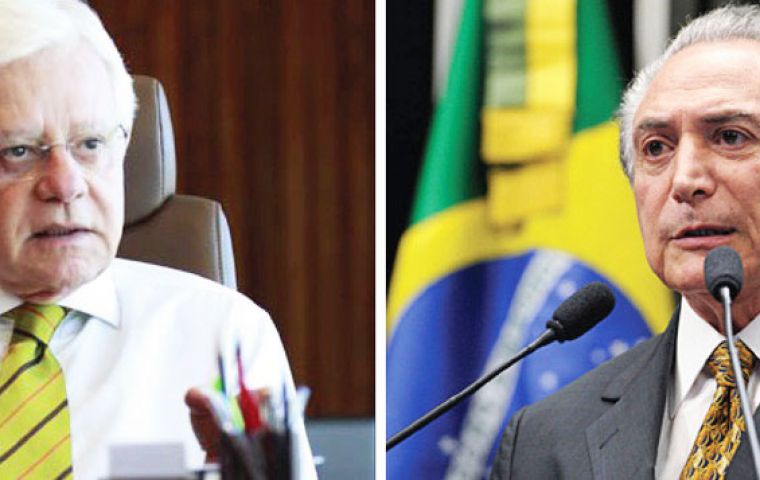 Brazilian President Michel Temer on Monday denied suggestions that he is trying to protect a minister implicated in a corruption scandal. Temer is under fire in the media and judiciary for controversially naming his close adviser Wellington Moreira Franco to a cabinet-level position.
That would give Moreira Franco, reportedly implicated by a defendant in a giant embezzlement and bribery scandal, protection from lower courts, with only the Supreme Court able to hear his case. After a judge barred the nomination, the Supreme Court must now decide whether Moreira Franco can enter the government.
Temer went on national television to state that "the government does not want to shield anybody." But in his brief statement, Temer said that "you cannot accept that a simple mention" in testimony by corruption defendants justifies sanctioning government members.
Several of Temer's closest allies in government and Congress and Temer himself have been named in plea bargain testimony by defendants in the corruption scandal centered on the Petrobras state oil company.
Temer himself allegedly asked for campaign finance funds from the giant Odebrecht construction company at the heart of a bribery scheme, according to leaked testimony. He denies any wrongdoing.
However, the president said that if any government members are actually charged with crimes, they would be suspended -- and in cases in which the Supreme Court decides to bring their cases to trial, "the suspension would be permanent."
Temer, then-vice president, took power last year after president Dilma Rousseff was ejected in an impeachment trial. Since then, the center-right veteran of the PMDB party has lost six ministers and one advisor indirectly or directly as a result of fallout from the Petrobras corruption scandal.