Argentina's ex intelligence chief indicted; prosecution requests his arrest
Wednesday, February 15th 2017 - 09:24 UTC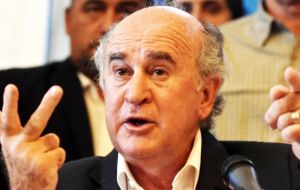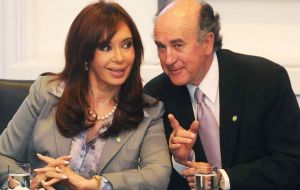 Prosecutors have requested the arrest of Argentina's intelligence chief under former president Cristina Fernandez over murky accusations he shielded a fugitive drug trafficker from arrest. The request came a day after ex-spy chief Oscar Parrilli was indicted on charges of hiding information on the whereabouts of the man who was formerly Argentina's most-wanted fugitive.
Parrilli was a key figure under Cristina Fernandez (2007-2015), spearheading her program to overhaul the intelligence services amid accusations they were interfering in politics.
But now he himself is accused of using his post for political ends. The fugitive in question, Ibar Perez Corradi, was wanted for a 2008 triple homicide, as well as money laundering and drug charges. He was finally captured in Paraguay in June.
After his arrest, he fought extradition to Argentina, arguing his life would be in danger there because "very important people in the (Kirchner) government were involved" in his alleged crimes.
Parrilli, however, denied any plot to help him. He dismissed the case against him as politically motivated, blaming current President Mauricio Macri.
"Argentine democracy is in serious danger," he told a press conference.
Argentine media have recently broadcast leaked wiretaps of phone calls between Cristina Fernandez and Parrilli in which she can be heard urging him to pursue cases against judges perceived as unfriendly to her and her allies.
Parrilli said the recordings had been altered.
His indictment is the latest in a string of cases against top Cristina Fernandez officials since Macri, a center-right businessman, took office in December 2015, ending 12 years of populist rule under Kirchner and her late husband Nestor.
Cristina Fernandez herself is facing a series of corruption charges, which she denies.